Monday, 12 April 2010 by kinakoJam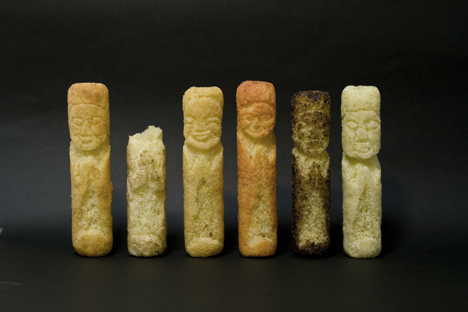 The good people over at
Shift
have published an interview with Koshi Kawachi to promote his current exhibition Tasty Buddha - The Snack Age.
The title THE SNACK AGE represents as it means, and reflects how I felt: "this age is fribble, flimsy, and unhealthy, just like snacks are." Then, you can also read "AGE" as "a-ge", which I infused a meaning for audience to uplift their feelings.

Gutfeelings member Nalika comments that this refers to the verb ageru 上げる - to uplift, as he put it. The recent colloquial Japanese speech has expression 'agaru' (feel uplifted) and 'age age' (uplifting).
An umaibo is a deep fried snack, so ageru 揚げる(deep frying) could work as a double pun.



Embalming Potato Chip:
Cracked pieces of a potato chip are "embalmed" to be restored by a traditional technique, kintsugi.


More pictures + interview.
Tasty Buddha - The Snack Age exhibition
April 1st - 16th, 2010
pARa:siTe Gallery
Ne 24-1 Matudera-cho, Kanazawa