Monday, 30 July 2007 by kinakoJam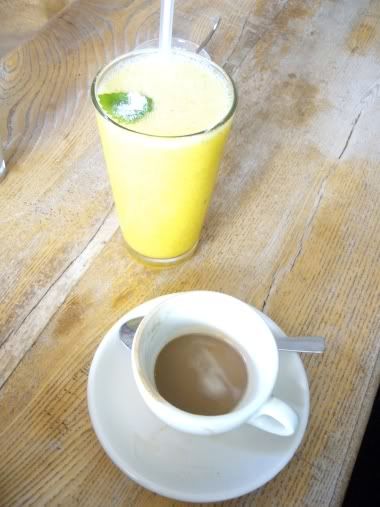 (photo: soy coffee and mango-mint smoothie garnished with a mint leaf & tiny pinch of powdered sugar)
When in Munich, a nice place to hang out on a hot summer day is Aroma Kaffeebar, a short walk from Sendlinger Tor. It's airy, with big open windows and wooden tables and people hanging out there forever. They have antique wooden school chairs and cushions in the window sill and a range of gourmet small goods like home made schnapps (the label was in Bavarian dialect so I couldn't read it, but it seemed to have been made from pears and something golden) and giant-sized Nutella jars.
The coffee is good and they have soy. ..Still haven't figured out the politest way to order a 'melange' (in Europe, the drink that NZers so romantically call a 'flat white' is a Vienna-only specialty). The best thing would probably be to order a double strength latte macchiato with only a little bit of foam ('wenig schaum') to somewhat approximate this. Except that I'm usually too embarressed to ask for wenig schaum. Achtung, diva!
The food is more imaginative than usual cafe fare - no relying on feta quiches and lentil salad here. Everything, as seems always to be the case in Munich, is beautifully presented. Maybe a little on the Annabel Langbein side but hey. A beetroot and quinoa salad that looks pretty. What in the world could be wrong with that?
A good place to recover after partying at
Rotte Sonne
the night before.
Aroma Café
Pestalozzi 24
Graubrot (German sourdough) bread with pecorino, borage, sprouts and seasoning: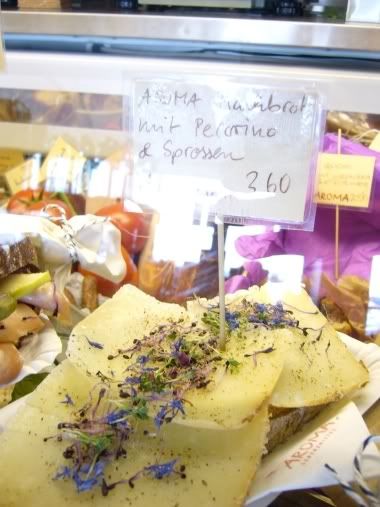 Miniature milk-rice jars: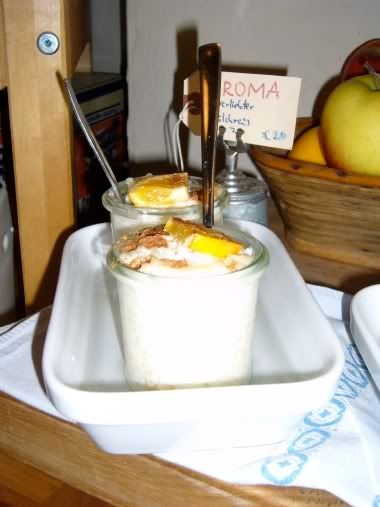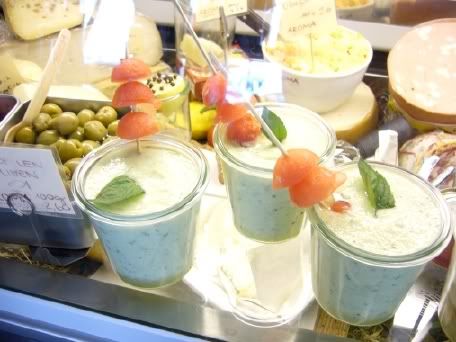 Reading the Süddeutsche Newspaper: