Saturday, 19 January 2008 by kinakoJam
On the 25th December (a day after most people celebrate Christ's birthday in Germany), we went out to Erik's dad's place in the village of Urft in the area of Eifel, to have dinner and stay the night. It's my 3rd Christmas together with Erik's family.
Erik's aunt Resi always does all the cooking. I think she enjoys doing it, in a frantic sort of way - or maybe everyone just assumes she enjoys it. Anyway, she's good at it.
For starters we had turkey broth with little noodles in it. I asked Erik how often he would have this broth as a kid - he said a lot: "Whenever there's poultry, there's soup."
Erik's nephew Luis (note the little raindeer candles that gothically burn from the head downwards):
Erik's dad Erich caught in the act of serving turkey-broth with noodles. (The noodles are cooked seperately so you can specify how much noodles or if you want them at all)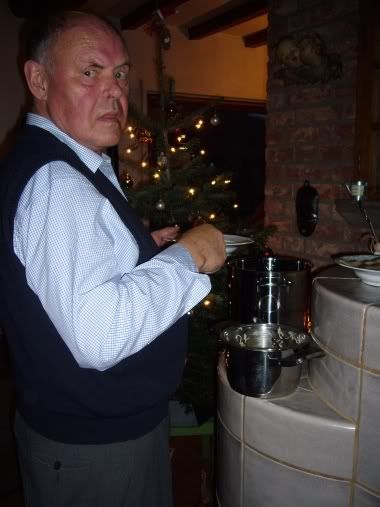 Turkey, raised by a neighbour in Resi & Toni's village (Rinnen), cooked to perfection: we suspect, in one of those big black covered roasting pans called a 'saftbrater' (juice-roaster)? There was an unused one in Erik's dad's basement so we took it home.
Definitely the juiciest and most flavoursome turkey I've ever had - i know I'm wont to compare meats to other meats but this was so brown and - um- meaty, it almost could've been suckling pig. Served with a mushroom sauce made from the juices and a bit of cream. And, of course, lots of apple sauce on the side.
The noodles are quite plain tasting, but all Germans love them. They're called Spaetzle - originating from Stuttgart. A wet sheet of dough is draped over a board and then they're chopped very fast into boiling water with a knife.
Resi always makes this very yummy christmas dressing for the salad that is very herby and has pomegranate seeds in it.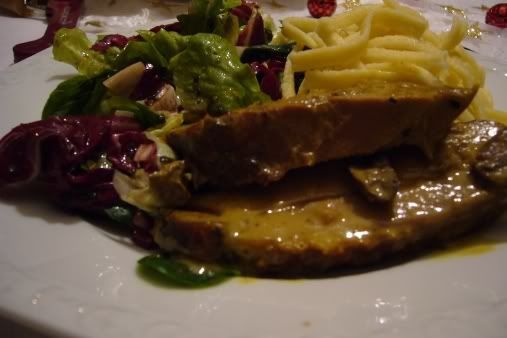 Kids (and adults) love apfelschorle - usually you mix up the apple juice and fizzy water yourself, but it turns out, the premade version is pretty cool.
Dessert was a gingerbread mousse, but I wish I'd only eaten a mouthful or two. Very rich and alcohol spiked. The brave of heart also had ice cream. "Love your arteries." Then it was all washed down with a fancy Spanish brandy, rather like Cognac.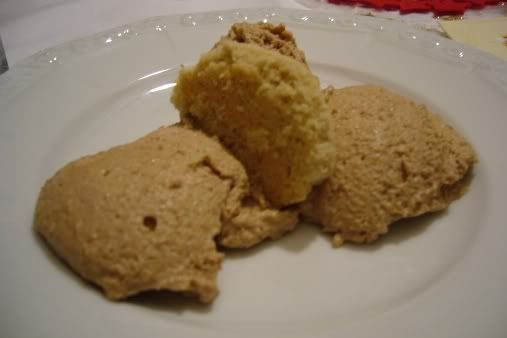 Boxing day breakfast the next morning is my favourite part about Christmas. It's the only time in the year when we get all traditional German on our asses (so to speak). Fresh rye rolls (crisp outside, soft inside), sourdough bread again made by Resi, black forest ham, shortbread-macaroon cookies and nuss-ecke ('nut corners' dipped on one side in chocolate) made by Erik's cousin's partner Sylvia; a very nice selection of cheeses, a boiled egg, orange juice and loads of fresh drip coffee brought to the table in a thermos. The little boys Luis and Henri love to have leberwurst (liver pate) on rolls. For me the best thing: salmon with creamy white horseradish on a fresh rye roll. Every morning should begin with a wasabi style kick like that. But salmon is not eaten without guilt. Forgive me, Jesus...