Thursday, 10 January 2008 by kinakoJam
This is an account of a meal at Hakkasan, that I've been meaning to post for a while, eaten during our London stop-over back in November (ammended version).
Hakkasan is another of
Alan Yau
's restaurants, featuring chef Tong Chee Hwee of the Summer Pavilion at the Singapore Ritz. Quite amazing how many reviews mention Yau, the owner, but do not mention Hwee at all. This, in a city where celebrity chefs hold the middle class enthralled, where St. John's is usually booked out and it seems that the newspapers are filled every single day with columns, recipes or christmas tips from Fergus Henderson, David Thompson, Rose Gray, Ruth Rogers et al. Oh, and Gordon Ramsay is some kind of national hero.
This below-street-level restaurant on a quiet back alley has a Michelin star. When Hakkasan was first awarded a star in 2003 it was the only Chinese restaurant in the UK to possess one, and the fifth Chinese restaurant to be granted a star in the award's 103-year history. We here at Gut Feelings are inclined to view things like Michelin stars with suspicion, though: and places like Nobu in London holding onto them when reliable commentators naysay their food, doesn't do much to instill faith.
However, having missed out on Susur Lee's food in Toronto due to such kneejerk (misinformed) aversion to hype, I really wanted to have some top-class dim sum before going back to Germany. Of course we could have gone with some blogger's favourite dive in Chinatown but just did not want to risk greasy, bloated Har Gau.
All in all, we really enjoyed Hakkasan.
ATMOSPHERE:
We went at a time of day when it was only filled with a smattering of people - we had a screened corner all to ourselves.
The blue lighting effects and maze of high black carved screens (by French designer Christian Liagre) brought to mind a deluxe gay German bordello, Louis Vuitton store, or a movie set, or all three at the same time...quite an entertaining atmosphere in which to eat dumplings.
However I'm not sure I would want to be there when filled with noisy rich people.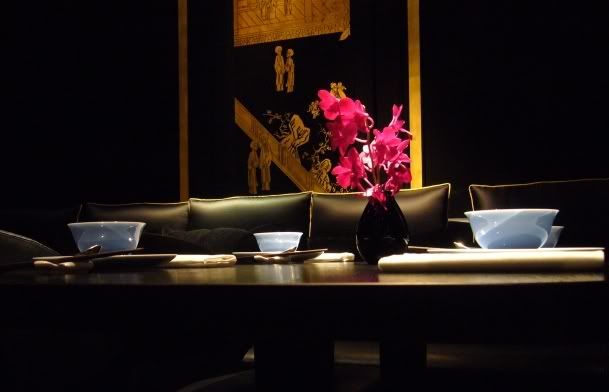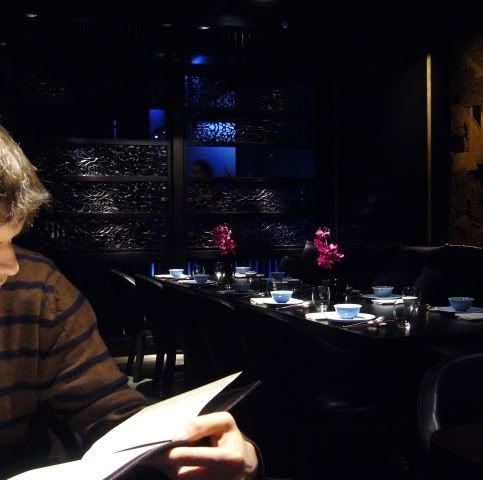 SERVICE:
We didn't have a booking but it was no problem.
I found it a little odd that they have brusque English women wearing smart black clothes (by Hussein Chayalan?) as maitre-D's at reception, but servers are all fresh-off-the-boat Chinese – and dressed in cheong sams. Apparently the cheongsams were designed by William Chang (designer of Maggie Cheung's cheongsams in the film In the Mood for Love) – this felt a bit forced, and when worn by a waitress, almost colonial, or something. But certainly in keeping with the upperclass theme park vibe.
The server wasn't exactly friendly, but being mollycoddled at yum cha would be odd, in any circumstances! She literally chucked the napkins in the directions of our laps.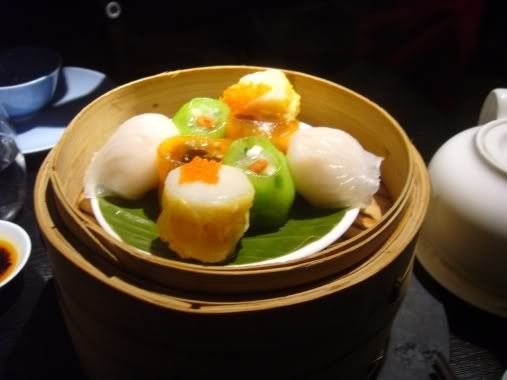 FOOD:
We went there planning to spend the bare minimum, on just the dim sum platter and vegetarian dim sum platter (you can read their description and price on the menu below), but ended up also buying the smoked Jasmine Tea chicken (about another 10 quid if I remember correctly), a pot of Chinese green tea and a large bottle of Voss mineral water, and some rice.
The dim sum were juicy and gleaming, just what I wanted. Nothing too crazy or modernistic but certainly excellent quality...filled with crunchy bits of water chestnut, fresh herbs, topped with red & black fish roe and goji berries and a dab of some sort of crayfish reduction...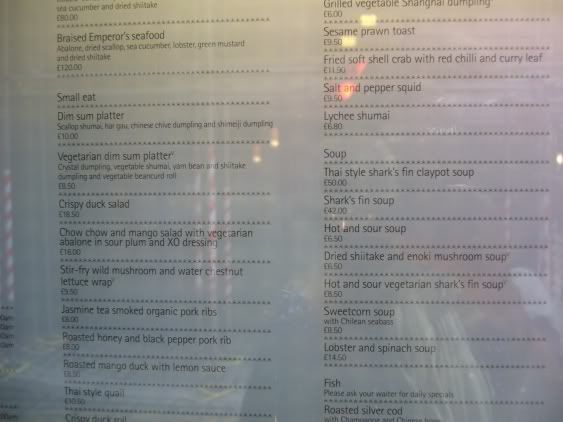 The jasmine tea chicken was DIVINE - I was surprised to read reviews online claiming it was dry - I adored this dish...moist, dripping with brown juices, teak colour, and rendered to a tasty state where you could swear you were eating duck...
One curious item on the menu (see above) is Braised Emperor's Seafood, which has to be ordered ahead, and costs 120 pounds. That's pretty steep, man... even without considering the inclusion of rubbery paua/abalone.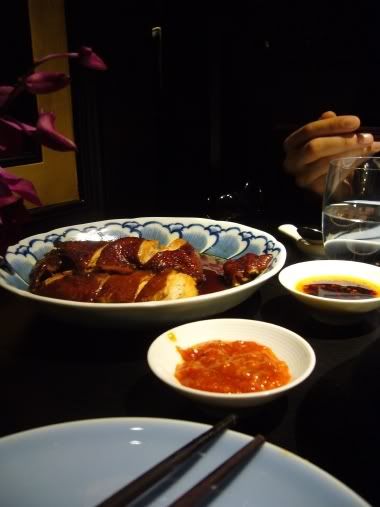 The rice was spectacularly bad, totally mushy and overcooked - what's up with that, Yau?
Having read mixed reviews of the main dishes there, I don't think I would risk going there to spend up large, but would definitely go back again for that chicken and a snack of dim sum, in the glow of somehow soothingly garish, tastefully lit, London glitz.
8 Hanway Place, W1T 1HD
Tel 020 7927 7000
Tottenham Court Road Tube Station 155 metres