Saturday, 12 January 2008 by kinakoJam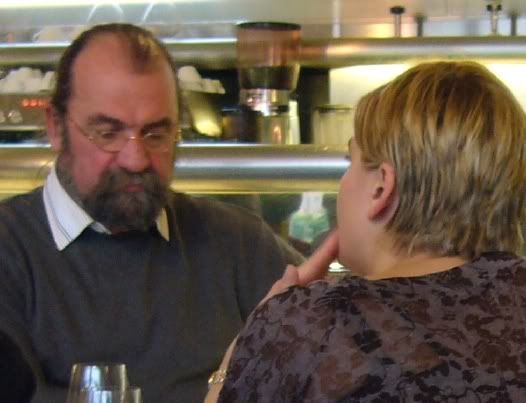 In case you haven't noticed, I'm a bit of a cookbook slut. And the River Cafe cookbooks are amongst my favourites. They're written nicely, the recipes are very cleverly selected - curated, if you will - from Italy's wealth of offerings, and they do not rely on cream and butter but more often artfully employ red chillies, lemon, anchovies, herbs or judicious applications of heat. However, though I'm usually turned off by cream, I must say their fennel-parmesan gratin is fine, and their calorifically splendid Penne con Sugo di Salsiccie alla Cloe is a staple of ours by now. (It must be the latent German in me that enjoys those dishes).
Other staples include cucumber, fresh chilli, mint, lemon and mascarpone; a way of serving potatoes half-mashed with tonnes of parsely, and grassy-tasting olive oil; various pasta or polenta techniques; and zucchini trifolati with tomato, which is insanely good.
Sage is one of my favourite herbs, and it's Rose Gray and Ruth Rogers who've shown me the best ways to deploy it in the kitchen.
Dishes I still need to try from their cookbooks include a soup of broccoli with red wine, roast duck with purple figs, Vignole (fresh peas, broad beans, mint, prosciutto etc), Ossobuco in Bianco (veal shin with anchovies, white wine, lemon, parsley etc), and Maiale al Latte (pork cooked with milk, sage and lemon).
So anyways, to visit their restaurant, which has sat at its far flung outpost in the West of London beside a gray-ish section of the River Thames since 1987, has long been a goal of mine. (Although it has nothing to do with my desire to go there, the place has held a Michelin star since 1998).
I was happy to achieve this goal shortly before Christmas with some friends who had booked a lunch there unbeknownst to me.
Atmosphere: very pleasant. I think I had expected the place to be a bit more cosy (with a name like River Cafe), but the most rustic thing there was the customers (see photo at top). The restaurant itself had a vibe somewhere between school teacher's canteen, (with the floor to ceiling windows casting gray London light on one side), and a vaguely chic early '90s bar (with the long stainless steel counter, and a glimpse of the wood-burning oven at the far end).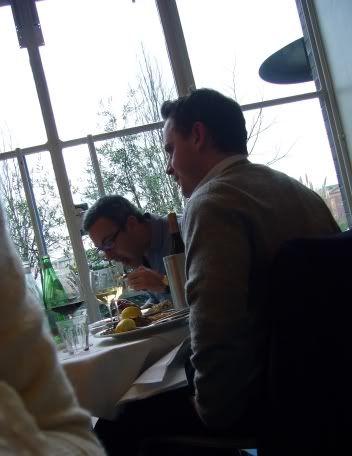 Service: excellent. A large team of wait staff performed their duties swiftly and skillfully. Some were attractive beanpoles of Russian or East African descent, all seemed contented: a well-looked after and efficient team. The Maitre-D was very friendly and made a big fuss over our not-so-impressive camera; the female Sommelier was down to earth but very knowledgeable, it was easy to imagine her as a peer or friend e.g. part of the old Verona crew in Auckland. They all sat down to a staff meal shortly after ours was served, which seemed familial. I've always found it absurd when restaurants banned one from eating in front of the customers. Like, god forbid the customers should think that the staff need to breathe or drink water, either.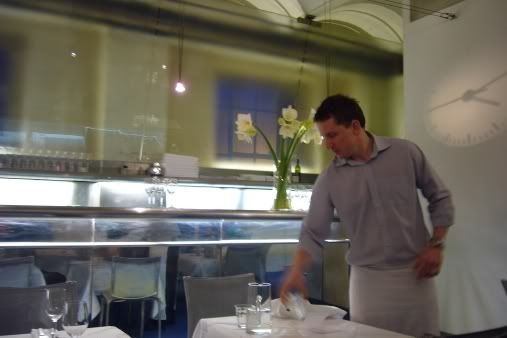 Food: the highlight for all of us I think was the two pasta dishes: tortellini of roast pork belly with sage leaves and butter, just a handful of soft expertly made pasta....mmm....and farfalle with cavalo nero and new season's olive oil from
Fèlsina
.
Herbacious, savoury, just delicious. Happily I found the recipe for the farfalle in The River Cafe Cookbook so I'll share it at the bottom of this post later tonight.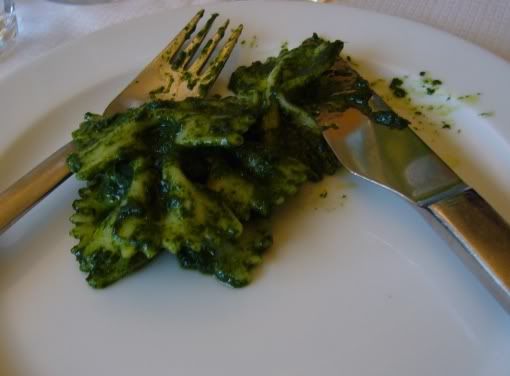 My main was probably the most disappointing, but only because (for the second time) I forgot that I don't like monkfish. If a rubber eraser mated with a squid, this would be the dense and chewy offspring. However the Fritto Misto - with artichoke and sage and lots of lemon squeezed on top - were yummy.
The lamb with rosemary branch and puy lentils, and the snapper/sea bream with roast pumpkin, borlotti beans and pesto, were very fine.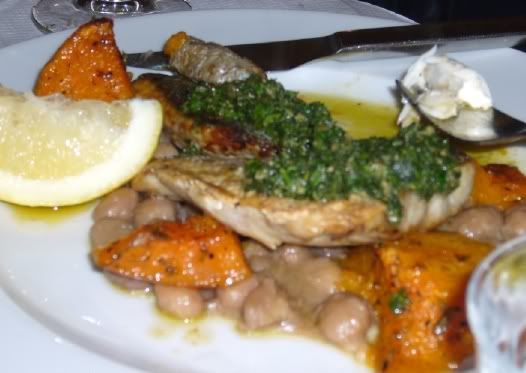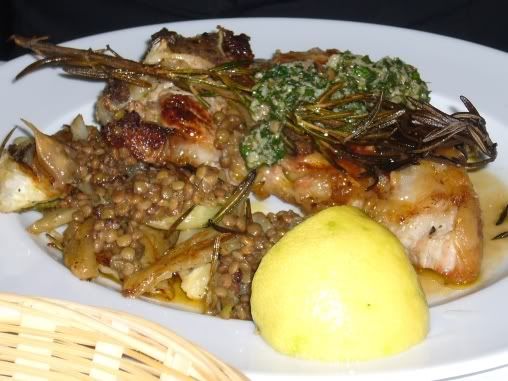 The cost was not insane for the size of the portions (note: when I say 'not insane', I mean 'not insane if you are thinking in terms of euros or British pounds') and considering that it included a very nice bottle of white, Soave la Rocca, & a glass each of prosecco with clementine orange juice and Campari as a pre-Christmas tipple. Beautiful! I recommend this drink very highly, in fact I might have one right now.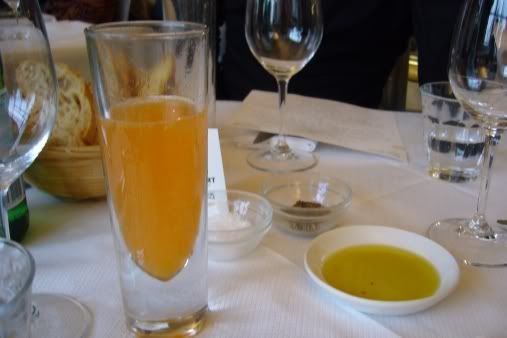 Thames Wharf Studio/Rainville Rd
Hammersmith
London
W6 9HA
Telephone: +44 (0)20 7386 4200
(easiest to get a cab from District Line or Hammersmith tube stations)