Saturday, 12 April 2008 by kinakoJam
Why make breakfast in your family bach, when you can stroll down the road to the
Sawmill Cafe
and have an eggs benedict or french toast with pears stewed in earl grey tea, that's actually better than any you'd be able to buy in old Ponse-snob-be (aka Ponsonby in downtown Auckland), while sitting outside in their nice garden and listening to the low throb of some Augustus Pablo dub reggae?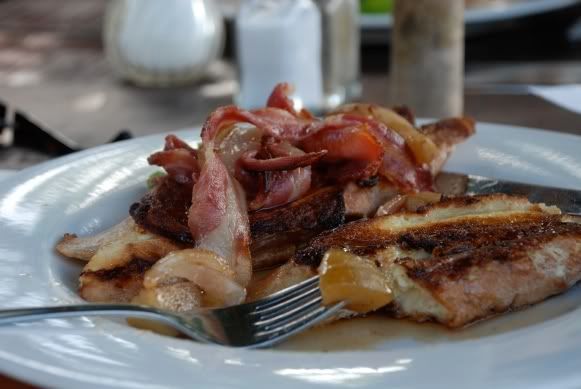 The Sawmill Cafe is awesome. It's not run by rich jokers and everything about it is just...good. It somehow does not clash with the township, and it's brilliant to have somewhere to get breakfast and a really good coffee after going to the beach. I've known Ed, Ben & Nicola of the Guiness family who run the Sawmill, since my late teens and shared many hazy early morning moments with Ed & Celia. I had some of my most enjoyable DJ gigs ever at the Sawmill, back when dropping Outstanding by the Gap Band or Flashlight by Parliament-Funkadelic next to Indio Silver Club by Daft Punk was unheard of in the city (way before Daft Punk got revived by indie kids) but would go down a treat with the Sawmill's mix of country kids, city escapees and artist bohos. The Sawmill makes me think of playing New Year's eve in a gypsy tent in a paddock with Ed making ridiculous watermelon cocktails. The Guiness family do everything so well: it's the only place in New Zealand where I had PROPER thin crust pizza... (their pizzas are named after their family members, e.g. the Picky Nicky) and their new microbrewery's offerings are mighty fine - especially the
Crystal wheat beer
. The beer is actually made by a guy with some kind of pro bono system where he keeps his brewery on the Sawmill property without paying rent and uses the Sawmill logo; the Guiness family have no financial investment in it, but they have it on tap.
Anyways, the Guiness family keeps it reals, and when I complained of missing watercress in Germany, Ed'll say "Just go down to the creek and grab some mate" and then launches into a story of fishing on choppy water or the cows he's keeping by his little house that he built right beside a waterfall. Ed's lifestyle in Leigh is a panacea to city-dwelling emmigrants like me & Celia. Maybe we wouldn't be much good at wrestling crayfish with our bare hands, but the fact that he does is a reassuring fact, an ideal to hold sacred.
So far, Leigh has remained the nice little harbour fishing village with baches that it always was, with the Sawmill as the jewel in its crown... however, nearby Matakana (about 15 minutes drive away) has lost its dishevelled bohemian edge and fallen prey to the march of the middle class, the crassest sign of which is the Matakana Farmer's Market and the surrounding complex of villas with jewellery stores and an upmarket butcher with Jamie Oliver kitchen ware.
I felt I wasn't the only person at the market feeling slightly at odds with the white glare of the sun umbrellas and the harsh ochre tones of the ornamental gravel underfoot. Not to mention the obvious 'life style block' owners like the dude selling italian sausages or the grey haired American selling olive oil. To all of this, one reply seemed obvious, in fact it loomed over the site, painted on a building on the opposite side: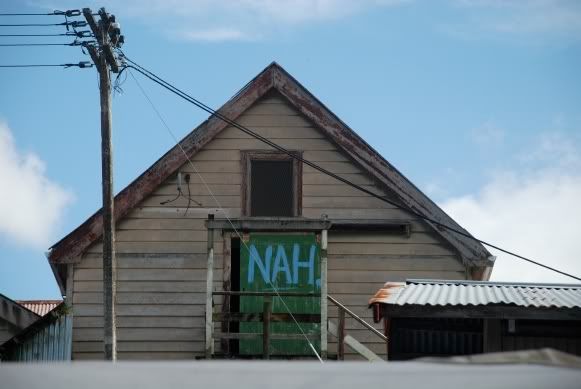 Still, we did get a nice sack of mixed salads with edible flowers, some smoked garlic (it didn't have much noticeable impact on anything I cooked with it, though it smelled nice while preparing the steamed cockles), some delicious sparkling feijoa fruit wine (which also takes me back to sun soaked recoveries in the late nineties at the Sawmill), some Mahurangi oysters, some dark purple grape juice, and some figs.
The duck eggs, and the location by the river, are pretty, if you can manage to ignore the shit-coloured gravel underfoot: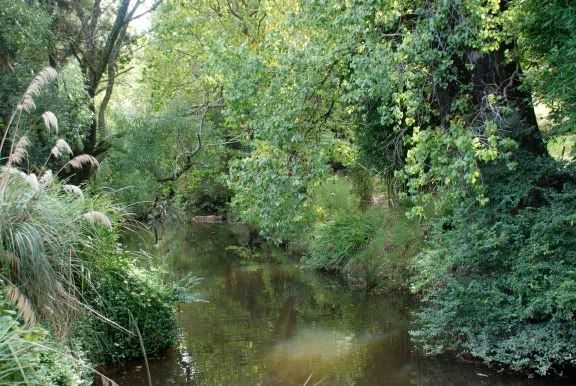 The flabby personality-bleached Omaha millionaires munching on mussel fritters got a bit much though, so we escaped with the oysters back to my family bach in Leigh, and ate them with a cup of what we kiwis call 'gumboot tea' (i.e. cheap & black like PG Tips) by the BBQ where two fat kereru pigeons ate their own lunch. And we in turned threatened to become the lunch of mosquitoes.
I couldn't really enjoy the oysters after having had two recent feasts of Bluff oysters.