Sunday, 23 December 2007 by kinakoJam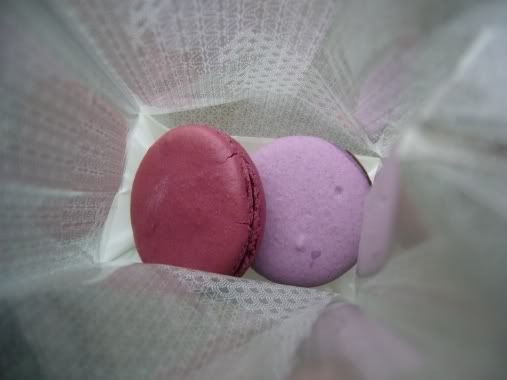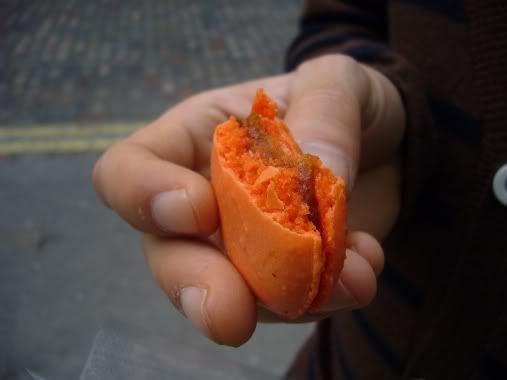 Pictured: violet, kumquat and fig macarons from the mediocre patisserie counter at Alan Yau's Yauatcha restaurant in Soho (it's right across from the kiwi coffee shop called Flat White which was also mildly disappointing).
It seems macarons are best left to the French, and high-end Japanese-style confectionary is best left to the Japanese, rather than trying to imitate both along with a dollop of jammy English blandness.
Macarons from Laduree or Pierre Herme or various small shops in Paris are very delicate, melt in your mouth affairs. These had the requisite jewel-like colours, but the flavours were not pronounced enough and the filling was a shock: a mouthful of sticky sweet jam. Yuck!
I've read that Alan Yau doesn't like Chinese sweets and desserts – so has the entrepreneur decided to tailor his offerings at Yauatcha to the tastes of little old English ladies? That's the only logic I can see behind the stodgy-jam-filled macarons idea. He would be better off making refined versions of custard tarts and puff pastries, or ginger-anise or jasmine or almondy apricot-kernel flavoured sweet rice flour dusted jellies in pretty shapes or, well...Actually there are a range of Asian-inspired French patisserie on offer, but this type of thing is never done properly outside of Asia. Not even the French or the Japanese patisserie chefs who live in Paris (i.e. Sadaharu Aoki) can get it right. Maybe it's our fault for being Westerners with bland palates.
Alan Yau is not actually the chef. He's an entrepreneur, who learned the restaurant trade first in his father's takeaway bar, then by opening the westernised-Japanese noodle chain called Wagamama in 1992, which he then sold and which grew into a behemoth. He has achieved something like celebrity-chef status via his 'soft-engineering' (mega-hussling and idea-mongering) in the restaurant trade.
He now owns two Michelin-starred Chinese restaurants in London, Yauatcha and Hakkasan (chefs Tong Chee Hwee and Cheong Wah Soon, both from Singapore), and a popular Thai chain called Busaba Eathai in collaboration with chef David Thompson. Smart guy... with a knack for seeing those obvious gaps in the culinary scene. I wish I could impress upon him the huge market potential for gourmet burgers or yakitori in Cologne – then he could go do all the venture capital stuff and make it a reality. And we wouldn't even need to have a 4-million pound restaurant interior. Child's play for Yau, I'd say!
But he and his patisserie chef Stephane Suchata at Yauatcha are not that good at desserts.