Wednesday, 19 September 2007 by kinakoJam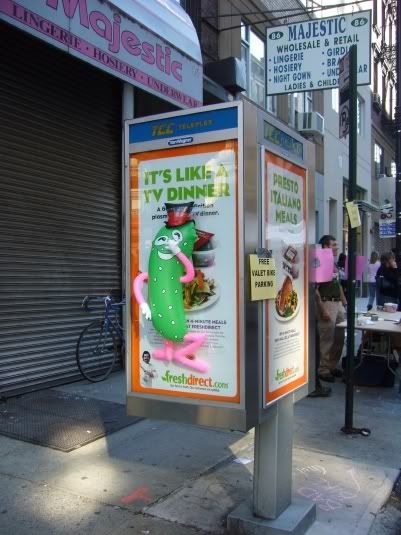 Last Sunday, 16th September, was the
7th New York City International Pickle Day Festival
on Orchard St on the LES (Lower East Side) in NYC.
We caught the tale end of it, missing the canning demonstration and the Koreans who'd packed up in order to get the train back to New Jersey, but in time to try yummy spicy smoked okra pickles.
According to
News Day
, 50,000 pickles were consumed there - well, who would say no to a big, watery, crunchy half-sour New York style pickle, when it's for free?
Note the hand written piece of paper, a jab at same-named competitors who sell to Whole Foods?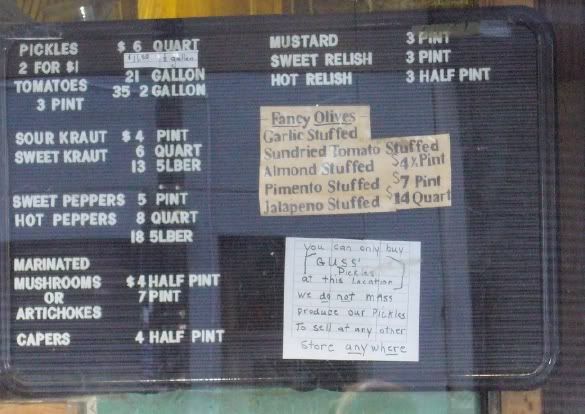 It takes a vivid imagination to imagine those "fractious wood-cart sellers" early last century.
News Day says "Many of the immigrants who arrived here 100 years ago found their first jobs as pickle vendors. Eventually they might save up enough money to buy their own pickle cart."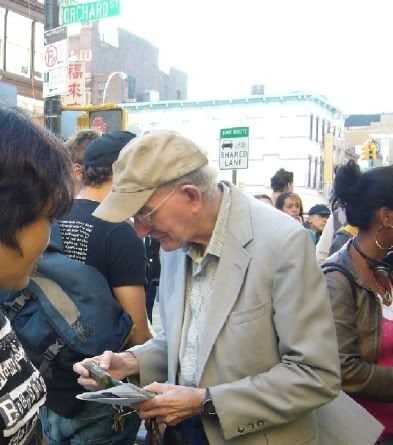 "In the LES of the 21st Century, with its hip bars and trendy boutiques, only a few pickle shops remain – making this day-long festival bittersweet for some."
Should that be, half-sour?
Reflecting that paradigm shift, boutique pickle operations like McClures and all-natural
Rick's Pickles
offered toothpicks and little tasting snippets of pickles with names like Phat Beets and Kool Gherks.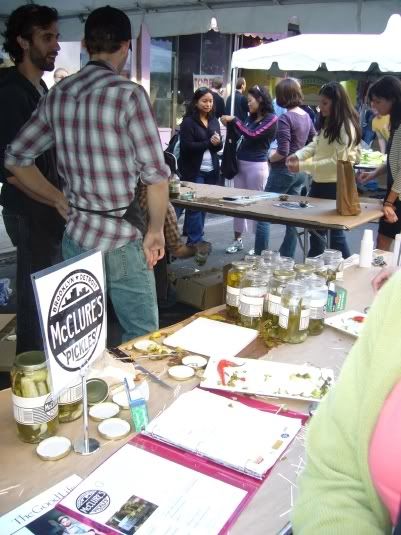 A highlight was the pizza from Ronaldo's with pickles on it, by the slice. If you're ever on Orchard St, Ronaldo's pizza is from a wood-burning oven and it's way better than you would expect from the funny pseudo modern signage! Maybe if you request the pickles, they'll do it! Pickles on pizza huh? Who knew it would be so good.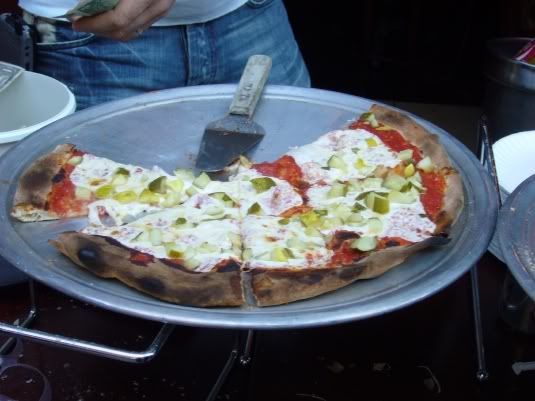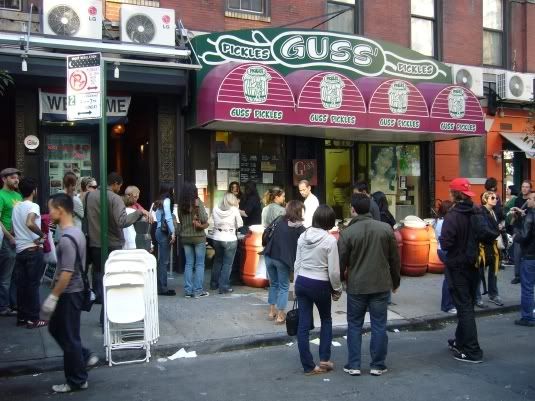 We're sure that Fanny Brice would be glad, if she could see the hundred-year-old Hungarian shop Guss' still selling rabbinically supervised kosher pickles alongside trendy sneaker stores like Dave's Quality Meat and hip Japanese-New York select shops like Travessia.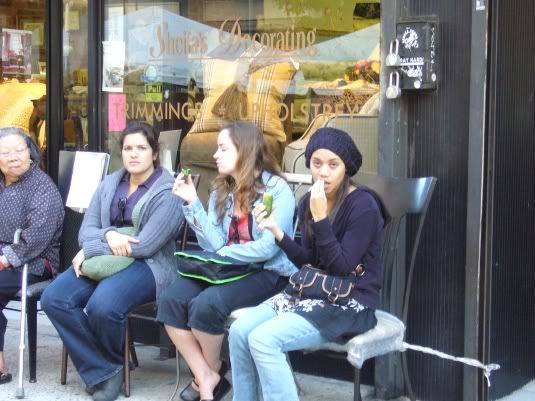 Still, as the NY Times said in July, "the beloved, traditional Jewish food establishments of the Lower East Side seem to be locked into an irrecoverable downward spiral". I was very sad to see that the 2nd Ave Deli had closed down... they used to serve big plates full of hard core sour pickles, for free. Maybe it was the costly pickle service, that crushed them in the end.
When we got back to our kind hosts' home that night, we found a jar of hot 'Smokra' smoked okra pickles by Rick's Pickles in the fridge.