Sunday, 9 September 2007 by kinakoJam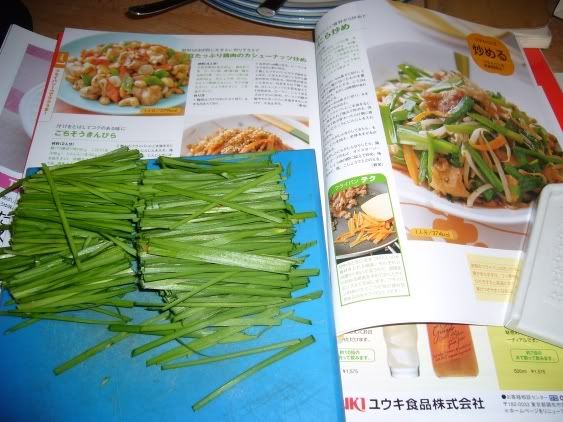 When we go out to the Kushitei izakaya in Duesseldorf, I always get a nantoka-itame (something-or-other stirfry) from the special menu. They usually have a really yummy one made from veges and pork with chopped spicy 'zasai' pickles, which are the slightly milder but still hot Japanese version of Sichuanese
zha cai
, crunchy pickled mustard stem.
Itameru
is the Japanese verb, which the Japanese wikipedia page likens to
sautéing
. However, the origins of '炒め物' (stir-fried dishes) in Japan, are obviously Chinese, and according to oh-so reliable wikipedia on their
Japanese cuisine page
, these "mock-Chinese stirfries" (?) have been a staple in Japanese homes and canteens since the '50s.
Somehow when I think of the western version of the Chinese stirfry, I think of a very hot, very energetic frying method with plenty of oil. Clearly in China there are many different ways to fry and braise food in a pan, and the Japanese itameru method derives from the slower end of that scale, which might be why the web page compares it to sautéing.
However apparently elements of a good French sauté are that the food is not crowded into the pan, without absorbing the fat or stewing in its own juices, and at no cost must moisture steam or stew the food.
On the other hand making itamemono usually does involve a big mess of food and flavours, and although the end result is usually not mushy, it is quite common to pour a little stock or sweetened soy sauce in at the end to braise/coat the food, and to jumble/marinate the flavours together a little more.
When I think of a nice itameta dish I think of a casual, homey dish, at least 2 ingredients cut up in in small pieces, still a bit crunchy and not too oily, flavoursome with an ingredient like garlic chives or small pieces of pork, or sesame seeds, or sugar and soy. And of course, perfect with rice.
The following dish is quite mild so I recommend to serve it with some really good kimchi cabbage and crunchy kimchi cucumbers. To really get your pan-asian (con)fusion going on.
肉にら炒め
Nikunira-Itame (meat & chinese chives stirfry)
(adapted from the cookbook '15分ラクうまおかず by Shufunotomo (housewife's friend) press)
150 g thinly sliced pork (as you would use for shabushabu or such)
One packet of Nira (chinese garlic chives) (about 30g?), cut into 4 cm lengths (substitute with bärlauch if unavailable)
Half a smallish bag of moyashi/bean sprouts
25 g carrot, peeled and cut into 4 cm long, 3 mm thin juliennes
A [salt, pepper, 2 tsp flour, 1 tsp olive oil]
2 tbsp sesame oil
1/3 tsp organic vege stock powder or kombu kelp stock powder
1 tsp oyster sauce
2 tsp soy sauce
Roughly chop the pork into 4-5 cm lengths and mix it with A using your hands.
Heat the frying pan, warm the sesame oil and stir fry the pork at a high heat. When it begins to colour, add the carrots. You might like to move the pork to one side of the pan and move that side of the pan off the heat, so that the carrots can absorb the juices and cook, but the pork doesn't get overcooked. When the carrots begin to soften add the beansprouts and nira/chinese garlic chives and stir fry it all about.
When it all seems pretty much cooked to your preference, add the soup stock, oyster sauce and soy, turn off the heat and mix it all about until well coated, then add salt & pepper to taste. Serve with hot rice and plenty of funky kimchi.