Tuesday, 7 August 2007 by kinakoJam
Last Thursday I had some very dear kiwi-accented people visiting me here in Cologne, friends & family, so off to the brauhaus we went.
Brauhaus Putz is our local place to veg out and meat with friends. It's different to the big establishments in town like Fruh (and cheaper). It is all cosy, gemutlich wood floors and benches and smoky corners and odd but nicely mismatched collection of artwork on the exposed brick walls.
Above you see Tui with a giant Bockwurst (boiled sausage) and delicious fried German potatoes (Bratkartoffeln).
Below is the nice Mühlen Kölsch beer which they pour into slim glasses straight from one of the barrels stacked up the back. The theory behind the slim 0.2l glasses (1/3 of a pint) glasses is that each glass is very cool and fresh because you drink it up quicker. Take that as a warning. As at other brauhauser here, they carry glasses around on metal trays and will slap a new one on your coaster as fast as you can say "hangover." The trick is to put that coaster on top of your glass when you wish to have a break from top ups.
Inside Germany, beer is brewed to a beer purity law called Reinheitsgebot. There are only allowed to be four (or five?) ingredients - so no nasty chemicals. Just barley, water, hope, yeast and love. Did I write hope? I meant hops.
Kölsch beer means Cologne beer (Kölsch is also the word for the local dialect). The best way to describe a Kölsch beer is like a light lager. As one website commented, most global lagers are light and bland. But Kölsch, always very fresh, has usually a distinctive flavour - very light but with a yeasty taste that cuts into the palate, sometimes very raw and unprocessed tasting, served in most cases straight from the barrel without any pressure.
Nothing like Brauhaus fare to line the stomach and comfort the soul. In the below picture clockwise from bottom left:
-Argentinian steak with bratkartoffeln (fried potatoes) and bratwurst (small tasty pan fried sausages which are not too oily), and sauerkraut which is very tasty and not very sour.
- 'Himmel und Ärd' ('Heaven and Earth'). My favourite. Blood pudding with mashed potatoes, caramelised onions and apple sauce....truly divine! And very down to earth.
- um... more steak, then Tui's Bockwurst, then more steak, and more bratwurst.
I prefer the boiled Bockwurst sausages to bratwurst, they are nice and 'knackig' (make a satisfying snap when you bite them) and taste great served simply with potato salad.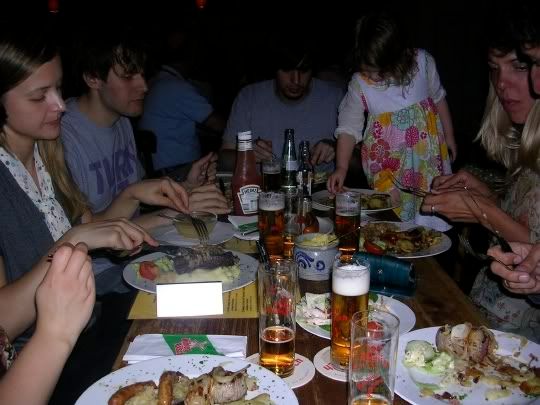 Brauhaus Putz,
Engelbertstr 67, Cologne 50674
Rudolfplatz U station