Sunday, 19 August 2007 by kinakoJam
It sounds fantastic when you write it down... but this menu was the budget option.
The above foodstuffs were how I celebrated my birthday on August 2nd in Paris.
Originally I had planned to have a steak-frites meal in a bistro, but it seemed that of the recommended spots, even the Rendez-vous des Chauffeurs (originally a pitstop for taxi drivers) was going to end up costing around 100 euros for four -
So instead, Erik and I wandered down the
Rue des Martyrs
to Galeries Lafayette, picking out little things here and there, and ended up at the Luxembourg Gardens for the Moroccan food finale with Rachel, Greg & Tui. It was a fine way to spend a birthday.
BREAKFAST
...(and the only real extravagance of the day) was a deluxe bocadillo sandwich from the
Galeries Lafayette food hall.
The
El Bocadillo
shop there has two different Iberico sandwiches on offer -
Jamón ibérico de Bellota
that they use in their deluxe sandwich is 256 euro per kilo. It was about 12 euros for a few slivers of the ham, or 14 euros when sandwiched between tasty but somewhat unremarkable olive ciabatta-style bread, with manchego cheese made from raw manchega sheep's milk and a creamy tomato sauce.
I think that I did actually have this ham before, at a fancy tapas place in Barcelona, but was too tired or drunk to appreciate the high oleic acorn content... This time, I was impressed with the very soft texture compared to lesser forms of Spanish ham, the extreme pinkish-red colour and glossiness, and the intensification of that marmite-ish musky flavour. It was a waste, really, to eat it in the much-too-large baguette. (I prefer the skinny bocadillos they serve all over Barcelona). I ended up picking out the ham and eating the sandwich seperately.
I am not sure if I would spend 14 euro on this sandwich on a regular basis, say if I lived in Iberia or Paris - the much cheaper bocadillos stuffed with ham can be just as rewarding, even if the ham is a little paler and less pliant - but I was glad to try it. Would definitely recommend, in case anyone else finds themselves in a slightly more cash-flushed birthday scenario, to buy 24 euros worth and eat it from a plate with a glass of wine. Apparently, the owners of El Bocadillo have a restaurant in Paris called Bellota Bellota, where you can do just that.
LUNCH
...was Moroccan takeways for four, and a nice brioche loaf, all from the fancy foodhall at Galeries Lafayette. Unfortunately I didn't write the name of Moroccan place down, but if you are in that food hall it's easy to find.
The great big moist piles of food behind the counter were impossible to resist.
We chose:
- chicken simmered in a stew of rice, peas and tomatoes
- lamb tagine with prunes
- yummy light couscous with saffron
- a tasty oily potato salad with tomato soaked into the potatoes, lemon and something pungent - maybe chopped anchovies?
- amazing, incredibly fresh tabouleh with very large grains, quite firm and a little crunchy
Everything was pungent with the taste of lemon, and very fresh. It was about 30 euros for more than enough food for four. Perfect in the Luxembourg Gardens next to flowers and a pond where children were pushing old-fashioned miniature sailboats with sticks.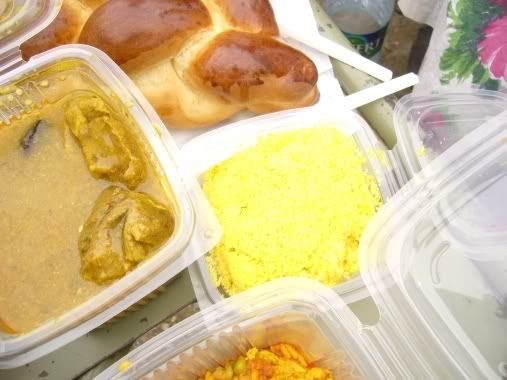 Tui bringing me a flower from the garden, which included silverbeet (or mangold?) as a decorative plant.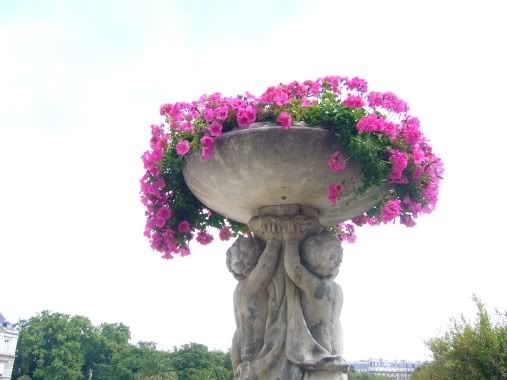 DINNER
... was leftover everything, on the highspeed train back to Cologne, with a few notable additions including non-fat
petits suisses
(how can it taste so rich with no fat?), which are like tiny, lactic-yoghurty cream cheeses, but with a texture like a very heavy quark; and some cute & yummy little
macaron
s from a bakeries on the Rue des Martyrs, about half way down on the opposite side to Arnaud Delmontel (which was closed for summer holidays). Macarons look way too sweet but they are very light and beguiling, made from egg white, almond powder and sugar, and have this great chewiness when combined with a filling. This other bakery was also very good - it really proved to me that it's true what I've read - one doesn't need to go to a top bakery to have a truly delicious macaron. On another day from the same place we had macaron sandwiches with rose cream and raspberries. Of the mini-sized ones I bought for the train, the violet-flavoured one was my favourite.
The matcha-green tea flavoured one which I bought from
Sadaharu Aoki
in Galeries Lafayette earlier in the day was nothing to write home about. It was slightly too sweet and had not enough discernible tea flavour. The too-sweet and too-timid accusations seem to be common when it comes to Aoki. If looking for sweets with traditional Japanese flavours, it seems, you are better to try them in Japan. Although the ice cream 'sando-kun' sandwiches on his website look realllly good.
Another addition to dinner was this DELICIOUS hazlenut and chestnut bread from the same bakery which supplied the macarons, with an EVEN MORE delicious rabbit & apricot terrine, from Françoise Le Carrer's charcuterie and cheese shop, Les Papilles Gourmandes. Basically we were walking past and I thought it would be a good idea to try one of the scary-looking terrines. When she (was it Françoise?) described the flavours, this one sounded pretty good, and it exceeded all expectations. Just because something looks like dogfood doesn't mean it won't taste like heaven!
It was about 5 euros for 100 g. And it was the best thing I ate that day. The best thing I've eaten in ages, actually. Creamy-ish, meaty, sweet bits of apricot, just heaven. I actually found
this
recipe which sounds rather like the same dish, but more herby.
As the website says, "Terrines are really just a meat loaf cooked in a bain-marie (a bed of water)." A nice way of putting it, though they look crazier and more chunkily-textured than a meatloaf's reassuringly monotone mince appearance.
Les Papilles Gourmandes 26, rue des martyrs - 75009 Paris
Bread crust, and delicious rabbit terrine:
Bread crumb, and delicious rabbit terrine:
Post script: a recent issue of Japan's
Madame Figaro Voyage
magazine all about 'rediscovering Paris', started with recommendations for guess where? The area may get more trendy, but let's hope, the shops selling dresses for 50 euros and the meat shop with rotisserie chicken don't disappear.