Tuesday, 11 December 2007 by kinakoJam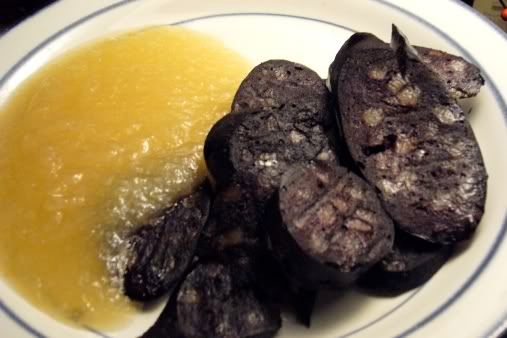 Above you see friend/employer/neighbour Torsten Schmidt brandishing a Blutwurst from the village where he grew up, Thalfang.
So far we've had two blutwurst fry-ups...
I'm a big fan of proper Blutwurst.
The silky small cubes of fat give this particular sausage an interesting texture when eaten in its cold, unfried state. This adds to the crispiness when fried.
I also like the less-firm, 'wet' textured Blutwurst that is served up in local Brauhaus Putz, when you order the local Cologne specialty 'Himmel und Aed' (Heaven & Earth). The visceral sloppiness is not for the faint of heart but goes great with the caramelised onions, apple sauce & mash potato.
It's a great dish for this time of year (savoury but not greasy like regular sausages, and winter-fortifying: all that iron and vitamin B). When Torsten takes the leftovers to the office the next day, David, Alfred, Wulf and him crowd into the kitchen to eat slices of it cold with mustard, gherkin and horseradish and there is much giggling and manly enjoyment.