Thursday, 12 July 2007 by kinakoJam
(photo: yet another perfect child on the rue des Martyrs)
They call it the City of Light, or the City of Lovers. Like most major metropoli, Paris sweeps you up in its cliches, squeezes you to its chest, and fills you with a desire to wear ballet flats and eat nothing but white cheese. In the end, that is the best reason to call this the City of Lovers. Because, just like other big cities full of culture, ill begotten charm, stories of red windmills, back allies, seedy underbellies and expensive overcoats, it's full of people who love it.
Most big cities are populated by immigrants and out-of-towners as much or more so than they are by the born & bred. It's a fascinating aspect of NYC for example: to witness the Williamsburg generation, refugees from middle America with their impeccable side-parts and vintage whatever, role playing to within an inch of their lives, the myth of New York as they saw it in "Back in the Days" or "Downtown '81". Be careful what you pretend to be, because eventually it will become you and be tremendously flattering. The beauty of NYC is that the minute one steps into the city one IS a New Yorker. New York mythology is upheld there every second, both by those who were born there and those who are visiting for two days.
So it is in Paris. The moonscape above the Sacrecoeur or the way that walking through the charming white-tiled subways is like following a trail of expensive perfumes through an endless underground lavatory. The ramshackleness of the subways, the people of many nationalities with barely a dime crushed together in a daze. The perfectly coiffured children who actually skip through the streets singing. Then, as if they've jumped straight out of Argent de Poche, they brawl into Arnaud Delmontel demanding pain aux raisins (unglazed swirl of croissant dough, eggy creme patissiere and raisins) and skip away, once more singing. It all inspires an insane (or inane) desire to wear a long coat, have artfully tangled hair and eat terrine of boiled beef parts in jelly.
There are hundreds of wonderfully relaxed-looking Japanese tourists, wearing their favourite fashion items, walking languidly around the Marais and the 1er, having their little moment of 'being Parisian'. There is a sort of Paris-cult in Japan, as I discovered when I lived near Jiyugaoka (Tokyo's centre of froux froux home accessories). One of the finest sights i saw in Paris was a well-to-do Japanese mom feeding her round-faced, pink-dressed 6 yr old a splendid mountain of cakes and the 30 euro set breakfast at
Ladurée
, which the child was admirably shovelling into her mouth energetically for the full hour which we were there, eating our violet cream-filled
Religieuses
and sipping coffee. Then they departed in a car which was waiting for them outside, armed with goodie bags filled with more cakes in stripey boxes. Next time I plan to visit the famous
Pierre Hermé
, though the presentation of his store and the cultishness around it don't appeal to me: his rose cream, raspberry & lychee 'ispahan' (macaroon sandwiches), which he invented, are still tempting.
One thing you notice in Paris is that everyone, but everyone, is constantly eating white bread. From Algerian Muslims in traditional garb, to Sudanese bicycle couriers, every Parisian seems to constantly have a baguette - or as we call them in NZ, 'French stick' - slung over the shoulder. The cheapest supermarkets have great big wire cages full of them by the cash register.
Although to carry a baguette might help to camouflage you, for the non-French it is much harder to fit in or be mistaken for an Algerian Muslim, who can gesticulate in that Parisian way that you never will. Still, it's a simple pleasure to hang out on whichever street you feel you have 'discovered' and eat 'the best' croissant (like one French person said, "It is surprising to see how the Anglo-Saxon are easily amazed in front of nothing. It is only some puff paste cut in triangle and rolled.") Despite the legends of rude Parisian behaviour, all the servers we encountered were really tolerant and even jocular.
For your next taste of big city culture and boulangerie pluralism, the Rue des Martyrs in the 9e is a fine street to visit. In fact, I would recommend staying nearby so that you can start your day here. Extending all the way up to some stairs ascending to the Sacrecoeur, the rue ds Martyrs is home to fish shops, nice-looking charcuterie and the English-style Rose Cafe, which was the only place where we had the famous rude Parisian service we were hoping for. Rue des Martyrs, which I've heard described more than once as 'four blocks of heaven', is lined with delicatessans selling cold cuts and meats encased in aspic, and cheese shops, and bakeries selling various pink & green pistachio dusted items. Not all of them are worth visiting, but it is also home to Arnaud Delmontel, which has a large sign proclaiming 'the best baguette in Paris 2007', and in this case one is inclined to believe them, judging by the queue stretching out the door, the cheap prices, and of course the baguette itself. I took one on the train back to Cologne and Erik and I marvelled at how chewy and aromatic it was, with the nicely singed crust. (Supposedly Jeffrey Steingarten participated in the judging panel of this Parisian baguette grand prix). Oh, and there is a really great Italian fusion store with a few nice wooden tables called
epicerie Fuxia
where we had a great spontaneous birthday dinner for Ruth of cold nibbly things, meats, olives, etc and wine, and it was cheap. And the salads looked amazing - huge. The service was a little slow (due to a sudden influx of nighbourhood people filling up all four tables) but very down to earth and kind, like being served by friends.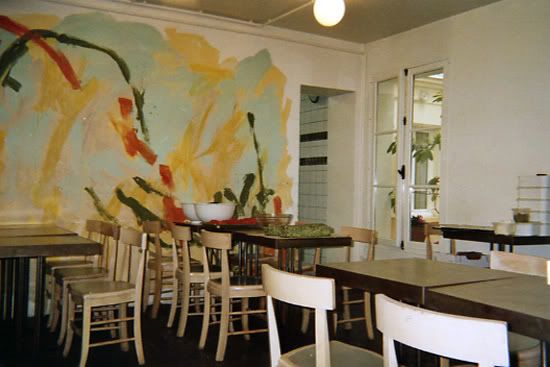 Why visit an English-style cafe when the small bistro at the bottom of the street makes cheaper and stronger coffees?
Tick a) you're keen on cafes that stock Scottish oat cakes, Neal's Yard cheeses and glass bottles of organic English apple juice
b) you are one of those sick people who prefers soy to normal milk
c) you want to pour the combined soy latte into your glass from a rustic hand-made pottery jug, a procedure known as a 'piggy latte'
d) you're tired of simple carbohydrates and want to eat some overpriced carrot and lentil salad and beetroot and avocado with delicious sour dough made by appointment-only baker Jean-Luc Pouduran and sprinkled with fleur de sel
e) you want to be served by young French-speaking Australian or English girls who have perfected an expression that is half-glacial, half-glazed, as they are given brusque instructions by their boss, a French man who I have read is Rose's husband.
If you ticked 'all of the above' then Rose Cafe is for you! It was the only cafe we found that satisfied some sort of pretentiously casual chic-factor, and let's face it, it's much cheaper to be pretentious at breakfast time. Rose has been running this cafe with her hubbie for a while now, and they have published a cookbook which a fashion editor was telling a colleague about on the phone at the table behind me, when I ate there. The English editor, dressed in Prada for her Parisian moment, lisped vaguely that the book was "marvellous" and contained "wonderful recipes for.... ohh.... you know.... little pies and thingsss." Owch, those syllibant S's! Rose's brother is married to Rei Kawabuko, who presides over Comme des Garçons. It's not really a fancy place though very clean and smart. It has basically the same cute mini lemon meringue pies, quiches and organic salads that these sort of cafes always have, and that our local Metzgerei Schmitz does for 4 euros cheaper, but still, it's Paris. The coffee is warming and good, but don't expect anything up to NZ/Australian/Seattle standards. (The only coffees in Europe I've tasted that met these standards were from Urban Espresso in Rotterdam)
If you go in the late morning, you will find yourself sitting amongst a pleasant hubbub as deliverymen trundle in big boxes of fresh butter and other organic produce. This must be the reason why all the staff seem so stressed yet glazed, or perhaps that is the role they feel compelled to play - tremendously hectic Parisian boutique operation. It's also very charming how they lay out trays on tables at the back of the cafe (see photo above) and one of the kitchen staff, dressed in apron and black leotard top, lays out steaming quiche fillings or little artisan mini-pizzas. Their kitchen must be small? But the effect is very nice, like eating in the kitchen or cooking in the back garden.
By the time you're onto the second coffee, and Rose's husband tells you that if you drink that much coffee you will explode, a line is stretching out the door for people getting their takeaway lunches, yet the cafe interior stays mostly peacefully empty, save for a couple of local middle-aged women with fashionably make-up free faces, jerky movements and incredibly deep voices, or very tall part-Trinidadian gay man with a large, floppy panama hat reading Le Monde, or the English fashion editor effusing over the delights of Rose cafe on her mobile phone.
Rose Bakery
46 rue des Martyrs
75009 Paris
01 42 82 12 80
Gelatinized
charcuterie
goodies on the rue des Martyrs:
Best baguette in Paris from
Arnaud Delmontel
(apart from the baguette and pain aux raisins, I also recommend their briochettes, which are either plain or yummy and crunchy with cinnamon and raisins, and a much cheaper alternative to breakfast with Rose. So get a coffee, then walk across the road for a briochette)
The paper bag containing the baguette says something about the breadmaking conforming to "de Pain de Tradition Francaise", using the correct proportions and flour etc, with no additives: only 'farine de froment type 55, farine de blemalte, eau, sel, levure.'
"La saveur d'une bonne baguette doit etre ni fade, ni trop salée, ni acide, pour ne pas contrarier les mets qu'elle accompagne.
La mie d'une bonne baguette a l'ancienne doit etre créme, longue, l'aveolage sauvage et irrégulier, la crout réélle, bien dorée, afin que le caramel de cette croute s'allie á la saveur de la mie..."
"Vous jugerey également la qualité de cette baguette á sa bonne conservation."
Yet more praline-dusted baked goodies: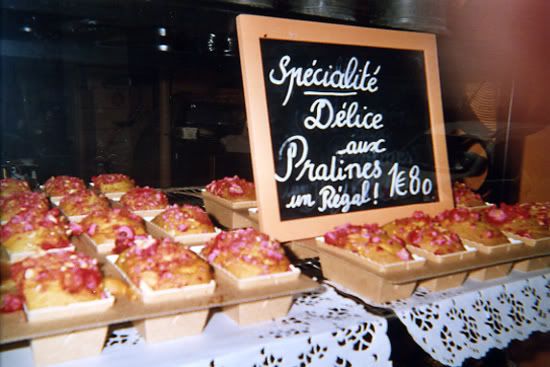 Fromager on the rue des Martyrs: