Wednesday, 24 October 2007 by kinakoJam
When local hip hop authority
Celine Wong
told me she knew the best small sushi spot and that she couldn't tell me where until she trusted me better, I admit, I was skeptical. When it comes to sushi I'm very hard to please. But when Celine decided she trusted me enough not to leak the secret out and ruin the steal on the raw fish, I was pretty impressed in the end. We asked the server for the freshest stuff on the menu and feasted on fresh hamachi, toro, aji (sardine), butterfish and more. Definitely not cheap (delicious uni was 8 dollars for two pieces), but very conveniant in the centre of town and nice unpretentious atmosphere. There are a couple of other sushi spots I read about on Chowhound: I take Chowhound recommendations with a grain of salt, but I figure if Toronto can be this much up to scratch, those other spots might be gold too. So will try to check them before leaving. After all, average sushi might be the pits but good sushi is pure heaven. Thanks, Celine Wong. I promise not to tell anyone.
Soft, fresh dead fish on rice like little sleeping puppies (hamachi, toro, aji (sardine), butterfish):
Spicy scallop maki, very hot from Rayu oil: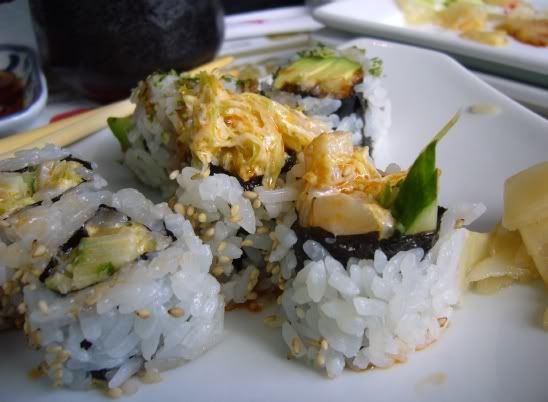 Dragon roll with eel and avocado: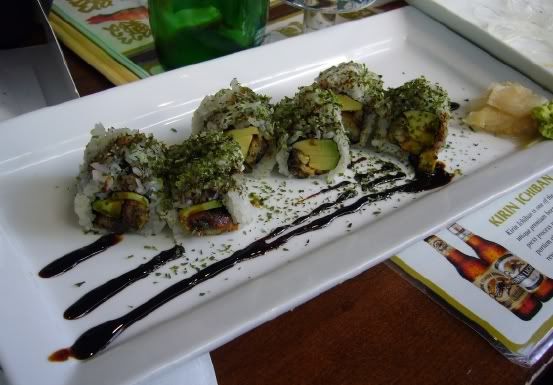 Japango
122 Elizabeth St
Toronto, Ontario
Ph: 416 599 5557
Open Monday thru Saturday, 11.30 am - 10.30 pm
Read Celine Wong's interview with Canada's premier hip hop artist Kardinal Offishall at the event K-jam is working at in Toronto.