Sunday, 7 October 2007 by kinakoJam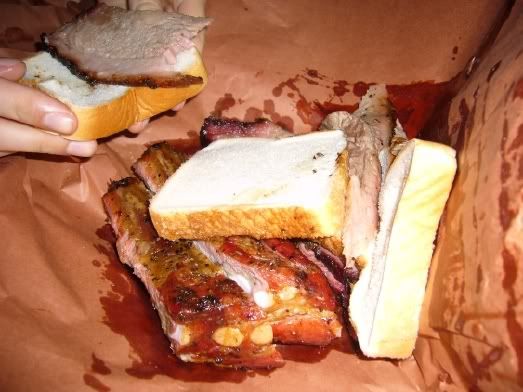 We did really well on this trip to NYC, all thanks to Village Voice restaurant critic Robert Sietsema. Nary a bad mouthful passed through our gullets. The only sadness was that we couldn't manage to eat two big main meals per day.
A definite highlight was
Hill Country Barbecue
, located a block west of Madison Square Park, in a block that at night time is dark, stark and does not feel that it will offer up any delights. However, it does.
Read Sietsema's admirable review of Hill Country
If you can stand the fact that Hill Country is a loud, brash, almost Disneyland-ish BBQ experience, you will love it. We actually saw a father & son arrive for dinner in ten gallon hats. Hill Country is styled after the beloved Texas Kreuz Market, right down to the bathrooms downstairs which are fitted out to resemble wooden outhouses (within a separate Ladies room of course). There was NFL playing on TV screens, loud music on the sound system, and a gimmicky system whereby you take your order card to the 'stalls' of the barbecue 'market' and when someone shouts to you that you are next in the queue of (mostly white) customers, you shout to the (mostly African American) 'pitmasters' that you would like a quarter pound each of lean brisket and moist brisket with white bread (scrupulously following Sietsema's directive), and they pull out smoky meat from black iron-lidded brick holding bins (the hulking metal Ole Hickory pits, each of which has a smoking capacity of 1000lbs of meat, are visible beyond some glass doors), and plopped onto a twist of butcher paper on a plastic tray. Then you get your sides from the next stall, then you pay at the cashier. If you want to get a table in the pleasant noisy warmth upstairs or at the long communal tables downstairs, where the bands play and where there are happy hours for Jack Daniels, you're best to book. There seem to be some nice music booked there, like
The Poor Man's Roses
, a Brooklyn-based Patsy Cline tribute band. We were able to get a table on the street right away without a reservation, which was fine for us, though the mix of NYC hubbub and Texas smells inside would be worth booking for. The black-people-serving-white-people thing made me a bit uncomfortable but everybody seemed pretty happy with their jobs and the atmosphere was nothing less than congenial.
The ordering system was quite hectic and we were glad to know ahead what we should choose.
We loved the moist-and-lean brisket eaten together on white bread, so soft, greasy, smoky, floppy-tender and delicous. Unlike any beef experience we'd ever had. The pork ribs were better with a little of the sauce in the bottle at the table.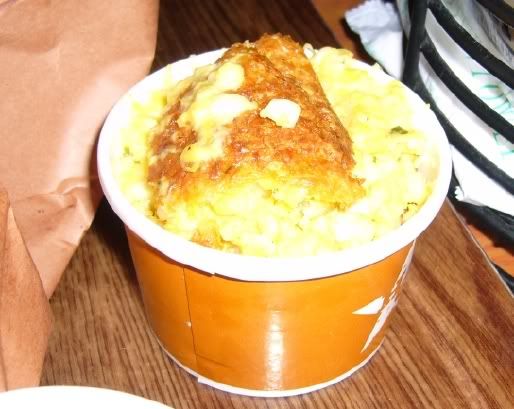 The corn pudding was indeed wonderful. A savoury sort of souffle with a deep corn flavour and touch of sweetness from the corn with slightly crunchy crust, we agreed with Sietsema that it was the best of the sides – Erik also liked the skillet corn bread though I found it too sweet and tasted somewhat of baking soda. I did also like the sweet potato mash with bourbon.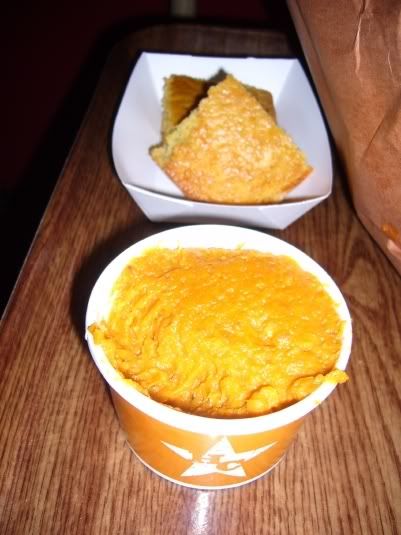 Looks like baby poo, tastes delicious. I am a maniac about almost anything involving sweet potatoes, though, and most things with a sloppy pureed or mashed consistency. The Cool As A Cucumber salad (ordered as a gesture towards green food) was ok. Beware of ordering too much... it might not seem like much, but a half-pound of meat plus one side is more than enough per person... I wished I'd had room for the peach & blackberry cobbler.
What heaven looks like: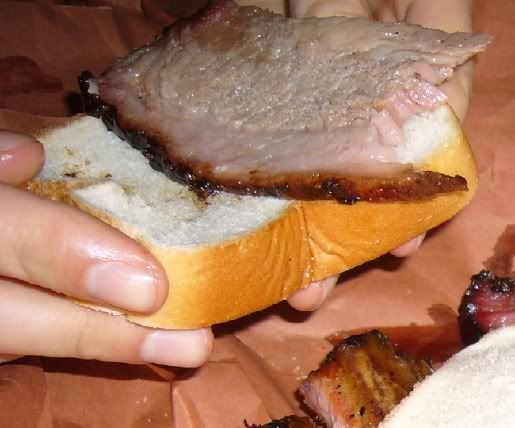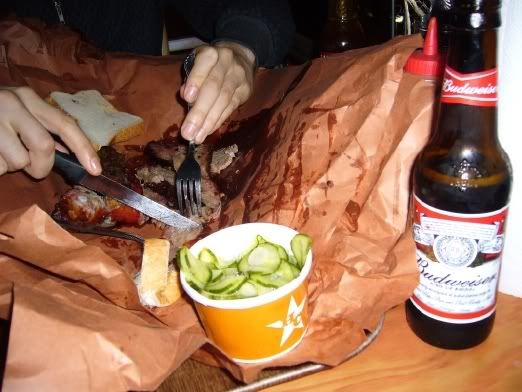 Hill Country
30 West 26th Street
(212) 255-4544
More photos of Hill Country, including the Ole Hickory pits.