Monday, 15 October 2007 by kinakoJam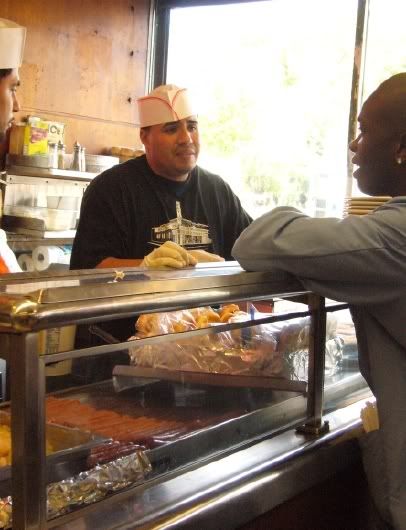 Yiddish has some excellent sounding words. Some of the coolest sounding words from the German language surface in Yiddish, in slightly unfamiliar shapes since they're descended from old or regional forms and sometimes given new meanings entirely. Schmalz, schmuck, schlep.
'Knish'
is one of the awesomest sounding Yiddish words (but it probably doesn't come from German). A shame, though, to order a sweet potato knish at the renowned
Katz' Deli
and for them to microwave it front of one's eyes. That's just knot very knice.
It didn't taste too bad, though.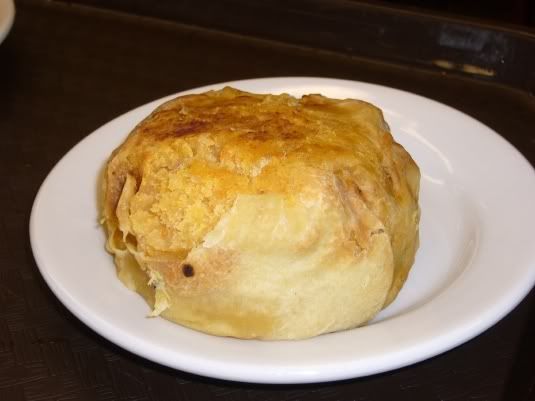 We liked how a sign at Katz' advertised "A Piece of Stukel" ("Stuck" in German means a piece).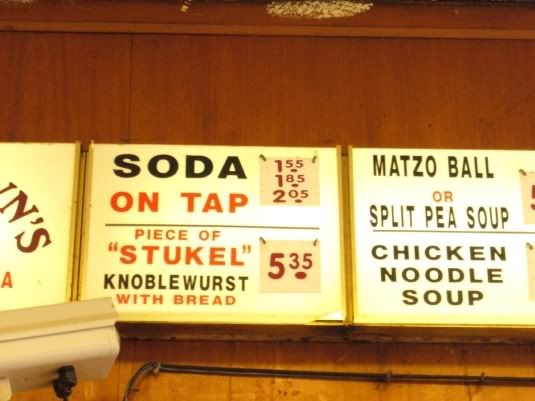 I am aware that many people revere Katz' as the best pastrami ever, but I'm afraid I preferred the taste of the kosher pastrami at the (currently closed) 2nd Ave Deli. Katz' is not kosher, and to add to the microwaved vibe, it's packed with tourists.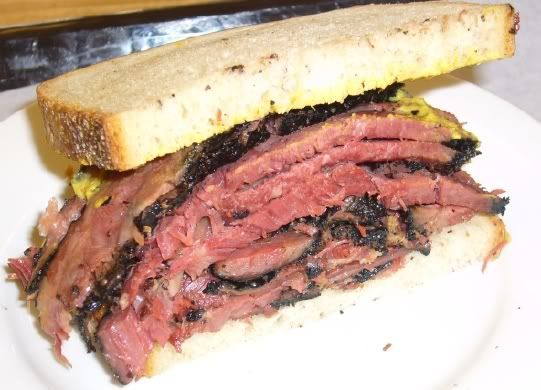 The pastrami was buttery and fell apart in the mouth, but in my stubborn & ill-informed opinion, 2nd Ave Deli sandwiches tasted better. And they were so big there was no way you could finish a whole one.
Also, at 2nd Ave Deli you could get sweet peppers in your sandwich. Katz' doesn't have them. The 2nd Ave Deli matzo ball soup was a revelation, a work of art (I have the recipe in a NYC recipe compendium back in Germany, will post when I get back); whereas Katz' matzo ball soup looks very pedestrian.
My final complaint is that Katz gives you ONE measly half-sour pickle split in half. The 2nd Ave Deli would give you a whole bowl full.
Sorry for kvetching ("kvetch" means to complain chronically in Yiddish; "quetsch" means to crush something in German. We don't know if there is any etymological connection; it would be nice if there was, though).
The great news is, as the NY Times recently reported, Jack Lebewohl, whose family owned the Second Avenue Deli for decades, said his son Jeremy would reopen the deli in Murray Hill — on East 33rd Street, between Lexington and Third Avenues — "sometime in the fall."
Mr. Lebewohl expects a fair few tourists to come to the new 2nd Ave Deli too, recalling a man who once entered the deli and exclaimed, "I smell Judaism."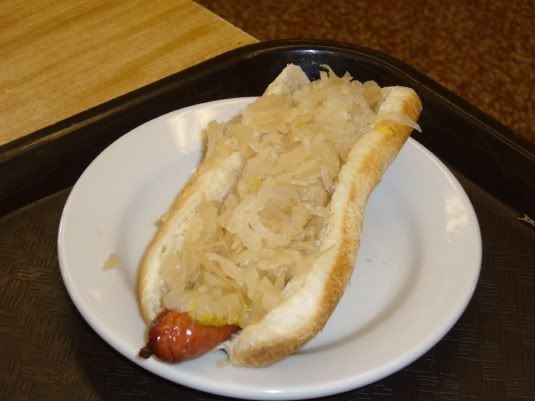 The hot dog at Katz' was fine: a hot dog, in a soft bun gobbled up in about 5 seconds since half the digestion is done ahead of time, ya know.
The best thing I had at Katz' was a sample of the strong, tasty Knoblewurst (garlic sausage; 'knoblauch' is garlic in German), which one of the servers shaved off for the lady ordering her sandwich ahead of me. If I ever go back, I'll take a Knoblewurst-on-rye. But hopefully the 2nd Ave Deli will have reopened by then.