Tuesday, 2 October 2007 by kinakoJam
For a while now I've been reading the columns of Village Voice writer
Robert Sietsema
. He is absolutely one of my favourite writers, partly because like fellow V-Voicers Nina Lalli and Lynn Yaeger he can use a word like 'dope' without any awkwardness. He can be Jeffrey Steingarten-esque, a goliath. But you still get the feeling he wears hoodies and has a friendly pair of spectacles. Maybe that's the sign of a good food critic. They might know when to call a Nepalese restaurant on the authenticity of their dishes, but they are a sort of everyman. Sietsema is a food critic Zelig.
When in NYC we followed a trail of his restaurant recommendations. It never really occurred to me that he might be in one of those restaurants. We look through his eyes, so to us he exists as a meta-text. When I looked around Paris Sandwich in Chinatown though, I thought that going by his reviews alone, he could be that precocious 16 year old Vietnamese b-boy waiting for a sandwich. He could just as easily be that 30-something bookish-looking African American gentleman. His reviews hint that he has many friends from many cultural backgrounds. In this week's Voice he describes hunting for the perfect Taco, and says: "Included in our number were an attorney, a cheese-monger, some students from Sarah Lawrence College, a chanteuse, a tutor, a historian, and a newspaper real-estate editor. Several of us thankfully possessed an idiomatic command of Spanish." Sietsema knows everybody, and he talks to everybody.
Anyway, just having fun with the idea of Sietsema. I suppose that most people outside of NYC have not heard of him, and yet in NYC his columns and publications are regularly spread all over the city. Everybody in NYC knows him. But, to paraphrase Howard Moon, do they REALLY know him?
When you're in a city for only four nights, you just don't want to risk a bad meal. You need to know exactly where to go for Malaysian or Ecuadorian. This doesn't leave you much basis for comparison or ability to judge whether your favourite reviewer's tastes are truly meritorious.
There were times when I disagreed slightly with Mr. Sietsema. In his
review of Paris Sandwich
he said "the crusty loaf is the star": well, I wouldn't have gone that far. It was crumbly and just ok, and nothing Parisian about it. But again, I have no basis of NYC-offerings for comparison. Another petty point to haggle over was his feeling that the 'vegetarian chicken', greasy tempeh, was closer to pork in taste. I thought it was kinda chicken-ish. Anyway, all that's beside the point. Overall, it was very yummy! The hot lemonade with salt was good, and the green tea waffle was dope too. ("You don't need no hope, all you need is...")
I preferred the tempeh to the sweet BBQ pork. We really enjoyed our sandwiches, and if we are back to NYC anytime soon will definitely go there again and go the whole hog: the baguette with pate, pigs' ears and 'head cheese'.
We tried following a few other online recommendations for NYC too – some New Yorker readers' recommendations from the Zucchini & Chocolate blog – those didn't hold up so well. My feeling is, if you are travelling to New York, and like the kind of food I do, it's better not to trust recommendations from anybody except the guy who Nina Lalli calls "Our Man Sietsema".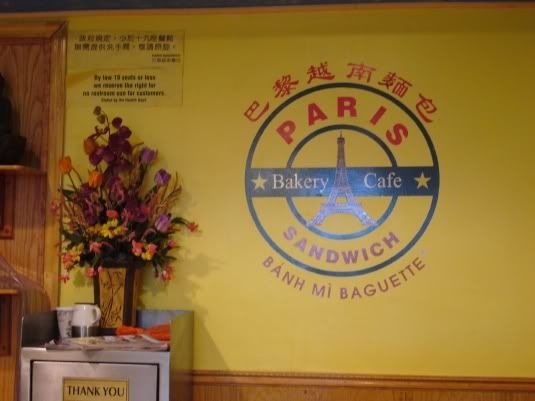 Paris Sandwich
113 Mott Street
212-226-7221