Saturday, 20 October 2007 by kinakoJam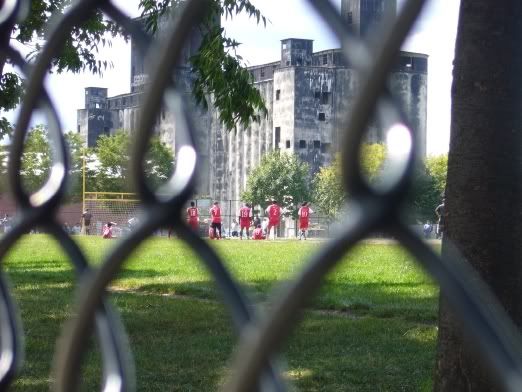 Walk straight down Clinton St from Cobble Hill, Brooklyn, past Italian gardens with religious statues and under the Queens-Brooklyn expressway, and you're in Red Hook, a whole different ball game.
Soccer, busted up buildings, trees, grass, and amazing Latin American food throughout summer.
Approaching the food vendors:
Quite surprising that so many people I've met who live in Brooklyn have not been to the Red Hook Ballfields...and the ones who have, act real surprised that we went there. Surely, something this good can't be a secret, when it's been there for ten years and it gets press like
this article in the NY Times
, which came with a tantalising accompanying video, effusing that "there is no better street food scene in all of New York", and "it's the kind of experience that reminds you why you live in New York."
Also, Nina Lalli wrote in this 2005
article in the Village Voice
about how Chowhound.com bloggers were "plotzing" over the Central American/Mexican/South American food. She explained, "(For non-Yiddish speakers, to plotz means to explode, crack, or burst). "Louise", who had written up the original report (which fellow 'hound Bob Martinez called "the definitive post on the ball fields"), replied with a confirmation: "Totally plotz-worthy.""
It was the nicest way to spend a hot few hours, chilling on the grass, eating snacks, while cute kids run around. The crowd was mostly Latino/Latina, with a few Brooklyn-dwelling palanga/pakeha families with the occasional adopted Chinese baby.
Just a few meters up the road is this big pool which was already drained since we came in early autumn, but apparently is lively throughout summer and kids have to wear white tee shirts to avoid gang skirmishes over colour affiliations.
If you go there, the article by Peter Meehan in the NY Times gives a very good directive of what to sample, going from right to left along the stalls.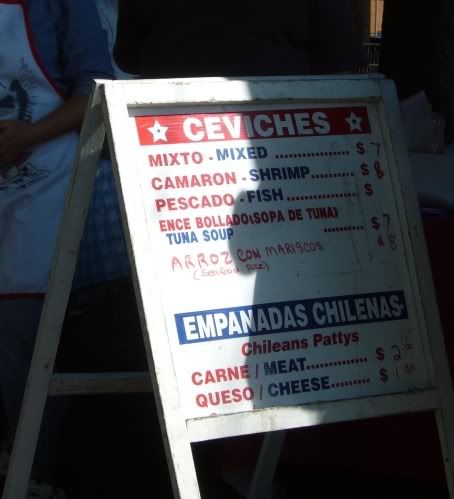 The Ecuadorian-Chilean ceviche-mixto was the best I've ever had, heavy on lime juice, spring onions, cilantro, & red onions. I would ask for two servings of hot sauce. Love those roasted corn kernels.
Some of the young guys who'd been playing soccer ordered something similar but hot, that looked really good too: I guess it was the Ence Bollado.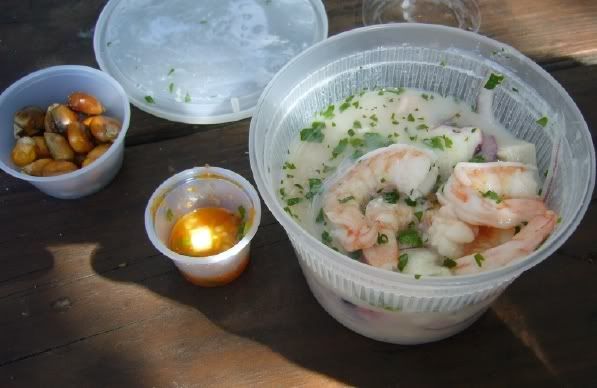 The Baleadas from Ms Carcamo at the next stall (and the cinnamon 'Horchata' rice milk with unrefined sugar) were delicious. That was actually my favourite thing – so good I forgot to take a picture unfortunately. Just-made wheat tortillas folded around a smear of beans and a sprinkling of grated cheese, very simple, soft and tasty, and not greasy. Peter Meehan writes, "Ms. Carcamo left Honduras for Brooklyn more than 20 years ago and has been turning out these baleadas, which might be most expediently described as Honduran tacos, at the Red Hook ball fields for more than a decade. Away from the sun and soccer, on weekdays and through the winter, she runs Honduras Maya, her restaurant on Fifth Avenue in Park Slope." Watch the NY Times video to see more. It was a shame that there was a ridiculous queue for the pupusa stand next door (and a camera crew filming them too), whereas the Baleadas were sadly neglected, with hardly any customers. Hang in there, Carcamo crew.
Making baleadas: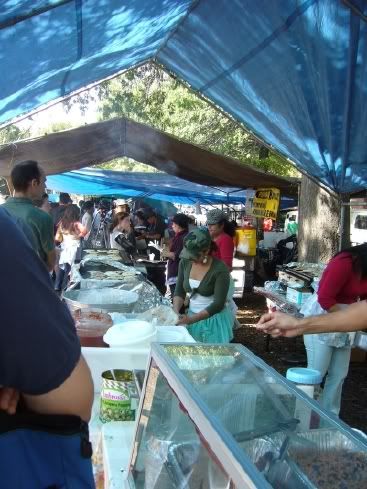 Pupusa: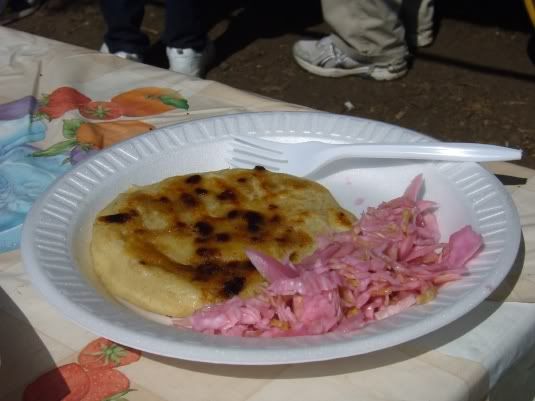 The Salvadoran-style pupusa (we had pork and cheese but if I went again I'd get jalapeno and cheese) was yummy & fresh but definitely greasy and junky.
Here is Nina Lalli's description: "Masa (meaning 'dough') is made from corn kernels dried by fire or in the sun, which are boiled and ground to a thick paste. It can also be dried to make flour, which just needs a little water to form tamales, tortillas, etc. Foodies generally become hysterical when they see the real thing, and with good reason. A freshly made tortilla is more than just a vehicle for its filling—it is crisp on the outside, but thick, soft inside, hot, and tasting truly of corn. I devoured a pork and cheese-filled pupusa, which is flattened into a fat pancake and cooked on a griddle until the cheese is melted and oozes out when cut with the side of a fork. For perfect contrast, it is served with a heap of pickled cabbage."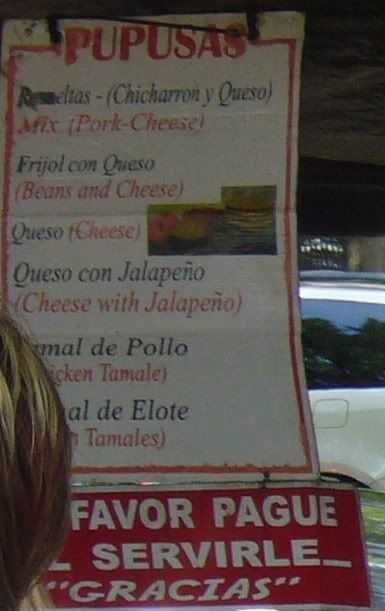 Actually the fried plantain with crema (like runny sour cream) from the pupusa stall was even more memorable. Plantains, where have you been all my life?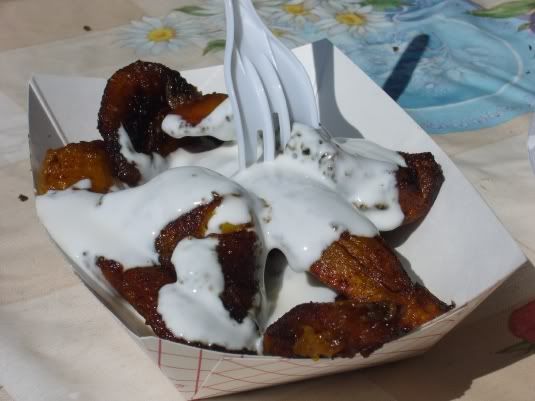 The charcoal-cooked corn (elotes) was tasty, dredged in mayo, chilli, lime and crumbled Cotija cheese (we make these at home sometimes, using parmesan, since hearing about the version at
Cafe Habana
in Nolita a couple years ago). I would recommend to hold the mayo though: it overwhelms the other flavours a little too much and is too rich for my taste.
For dessert we had the rest of the Horchata and a bag of chopped mango to which we were given the option of adding chilli or salt. There were piles of fruits and mango hedgehogs on sticks. The whole area was hot from the sun and smoky from all the cooking.
Cooling off: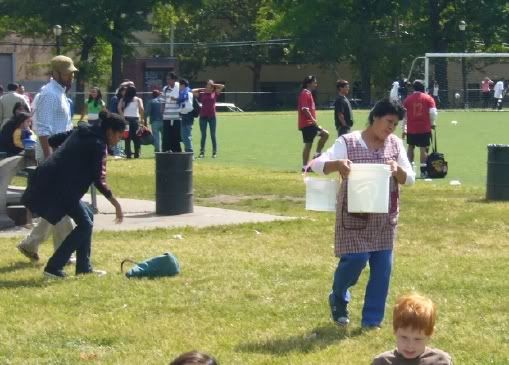 Chilling: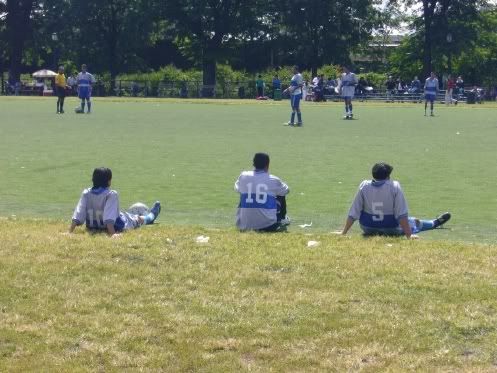 Beware of Chowhounds: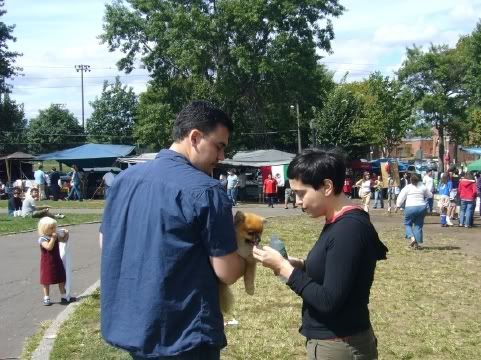 The Red Hook food vendors are there Saturdays and Sundays from May through October. The atmosphere and food are SO good, if I lived locally I'd go every weekend for sure. Next time I want to try the Mexican Huaraches and the chicken tamales.