Monday, 31 March 2008 by kinakoJam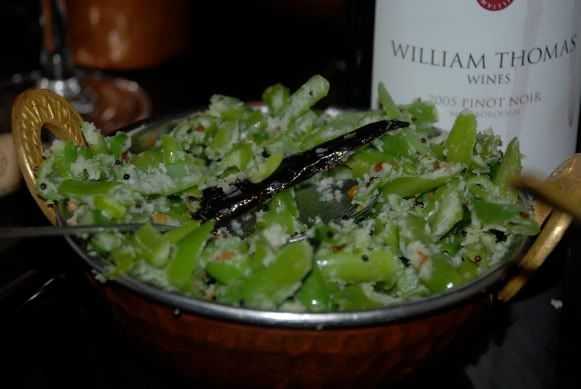 This is getting to be a bit like that game 'Follow the Leader'!
I too am a fan of Oh! Calcutta - but my personal fave spot is Satya. I love the crispy dosai (although I am not such a fan when stuffed with heavy masala), I love the use of tamarind and what seems to be a lighter spice blend to that used in the North - dried red chillies, curry leaves, coriander seeds, fresh chilli and fresh ginger, fenugreek, mustard seeds, lots of fresh coconut, and more of an emphasis on fresh vegetables -
But I guess it's not for everyone. Erik really liked Satya but I suspect his heart really lies with the dense flavours and tandoori ovens of Northern India. Maybe South Indian food is a bit girly. I'll admit it.
My first published restaurant review (as part of an abortive food column that lasted for about 2 issues in Pulp magazine!) was of the original branch of Satya South Indian Cuisine, when it was located on Hobson St. Using the bathroom required going through the postage-stamp sized kitchen, where a 50-something woman in a sari worked manically over a small kitchen stove, and then down an outside alleyway which involved ducking under washing lines. I had found out about it from a flyer at a local yoga studio, but Satya wasn't going to stay the province solely of butter-tofu and rasam (tamarind tomato soup) craving yogis for long - as I discovered when the owner invited me into the kitchen to watch TV. Satya was about to feature on a segment about dosai on Peta Mathias' Taste New Zealand show.
We revisited the K-Rd branch of Satya on our trip to Auckland: usually when visiting an old haunt I want to go for the old favourites, which I did on one count: the (so far unparalleled) Satya 3-piece dosa with fresh ginger, onion and green chilli.
(The dosa - a pancake made from fermented rice & bean flour - does not actually come in three pieces). See photo below.
But instead of going for Satya's delicate and fresh Palakura spinach curry or the dry chicken curry with soya sauce, vinegar, ginger and green chillies (I'm all about the ginger and green chillies), I brashly went for the vegan green bean curry -
and it was DAMNnnnn good. Dry curry with south indian seasoning (mustard seeds etc), beans crisp not overcooked, coconut chutney light and great texture. YUM.
Skip the digestive betel leaf afterwards.