Tuesday, 25 March 2008 by kinakoJam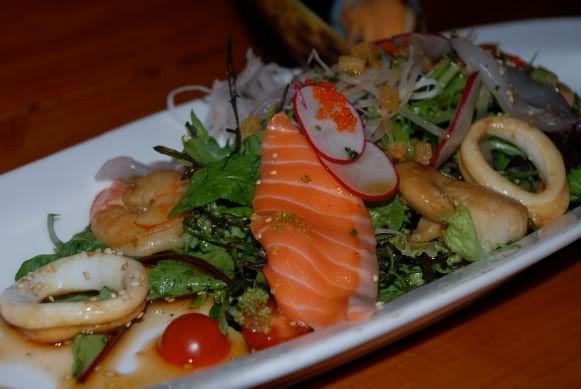 I too made a little pilgrimage on my trip to Auckland, NZ: to an old workplace of mine, a Japanese restaurant named Kura on Queen St. It's part of a mini-empire of 3 restaurants and a 'bottle keep' sake bar located within spitting distance of each other, and all owned by a surly old gaijin oyaji referred to by his staff as Rick-san, who once represented NZ for Judo in the Olympics.
Whatever your opinion of Rick, you have to respect his business sense. The popularity of and spill-over from each restaurant has only served to benefit the business of the others located literally next door. The fit-out of each place is very clean and Kura especially has a laid-back cosiness with the exposed stone walls and open back door letting in the early evening light. The prices of the food have remained quite reasonable – certainly compared to similar sized portions in Europe – probably due to the endless turn-over of 'wa-holi' (working holiday) Japanese workers on dubious wages.
Many of my old workmates have stayed on at Kura (and Tanuki's Cave next door), although Gen tells me he's leaving Tanuki's soon to manage a friend's new restaurant in Kingsland. Below you see Nami-chan, who was one of the shift-managers when I worked part-time at Kura about five or six years ago.
Nami eclipsed by tamago-yaki: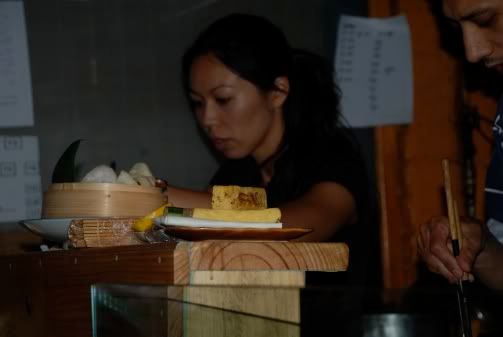 An unknown new staff member prepares our seafood salad (see photo above): sometimes the best things in life are the most simple. Molluscs and lettuce! Unbeatable!
The quality of the food has not (as I had heard) gone downhill... the one change to the menu that I lamented is the omission of the braised beef tongue with mustard which was truly unparalleled.... so moo-vingly tender.
You can get a very healthy-sized portion of kakuni for only 8 bucks though (about 4 euros!!), garnished with saffron. Pork belly marinated with grated daikon then simmered in a soy-mirin broth.... fatty pork was born to be cooked like this.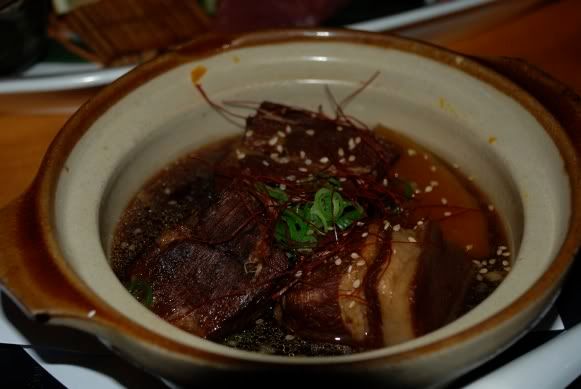 Although tuna is mercilessly fished and dangerously spiked with mercury, it's Erik's fave so we got this generous platter of tuna nigiri, sashimi and a delectable dish of sashimi dressed with sensual gloopy yamaimo (sticky mountain yam) paste, for only 16 dollars.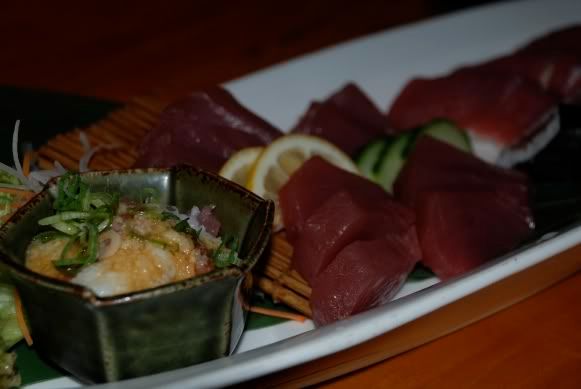 Yamaimo is also very sexy and slippery when eaten with cold soba noodles, wasabi, spring onions and tsuyu. I read on wikipedia that とろろ汁, the sticky grated yamaimo paste, was widely used as a homosexual lubricant in the Edo period. So next time you're looking for an orgasmically organic sexual aid, you know which yam is your man.
Nothing like that ever went down at Kura, though. Not on my watch, anyhow.
But I digress!
We went back to Kura a few days later with Maytel, Hock and an old music comrade who used to DJ under the name Ultraman back when I was Halogen Girl (it was all about superheroes) and reminisced about the mid-90s over fresh grapefruit chu-hi, Nigori-sake, coconut-sago pudding, black sesame ice cream and green tea brulee. Until Nami-chan kicked us out.