Wednesday, 12 March 2008 by kinakoJam
I'm writing to you from the haven of Maytel and Hock's private shelter for bloggers in Auckland. To kick off my tardy contributions to NZ food blogging month, here are some pics from our time down at the bottom of the North Island.
Paekakariki is a little enclave on the Kapiti Coast, a stretch of coastline which as a kid I always associated with the blue-rinse brigade of Waikanae as well as of course windswept tussocky beaches.
Turns out these days Paekakariki at least has acquired a dose of what you might call 'Ponsonby chic' but still retains its feeling of west coast wellingtonian isolation.
Since it's the season, we bought some bluff oysters to go with our Saturday lunch, from a truck down the tracks.
Paua mince and some oysters please?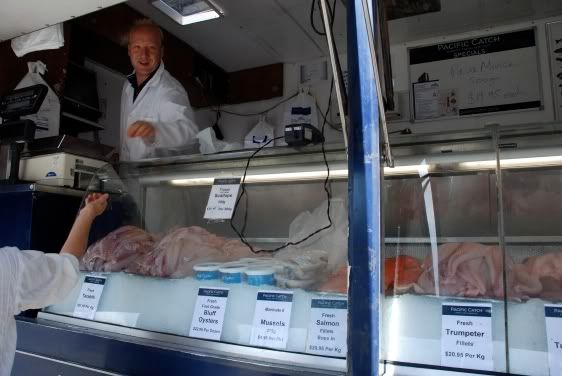 You can't really read the signs in this pic but he's selling girl guide biscuits alongside the sweetcorn and other roadside produce: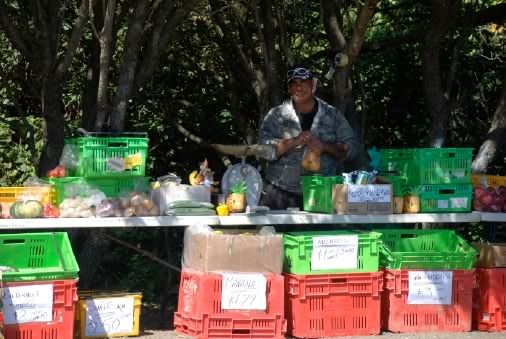 Oysters in the foreground went well with my newly teetotalling father's selection of Mac's and Bundaberg soft drinks (Hardy Boy's ginger beer is the best though). That's not my father in the photo, that's my pa's partner's daughter's partner Simon.
Delishus babaganoush from the Syrian shop in Newtown, Wellington, and a pretty decent rabbit terrine with pistachios.
After lunch, a stroll by the surf club and for the very brave, a swim: with an outlook onto Kapiti Island, or as we call it Cuppa Tea Island.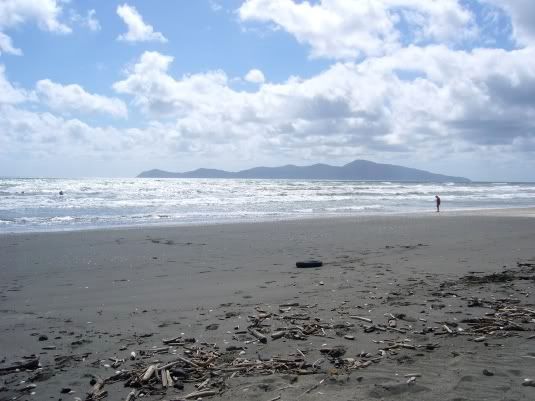 Across the street from the beach is this spot, that used to a be a dairy selling fish n chips when my mate DJ Jizmatron was growing up in Paekak. He was shocked to discover on a recent trip home that it now sells soy 'flat white' coffees, pohutukawa honey ice cream (alongside the full gamut from Kapiti and Rush Munroes ice creams) and Mexican day of the dead flags.
Of course there's still a regular grocery store or 'dairy' as we call them in NZ, down by the railway tracks.
You can get your poker-playing accompaniment of ginger snaps or mallow puffs there, though we had to drive to Paraparaumu for the secret late night wine.
Camp site detritus: