Thursday, 29 November 2007 by kinakoJam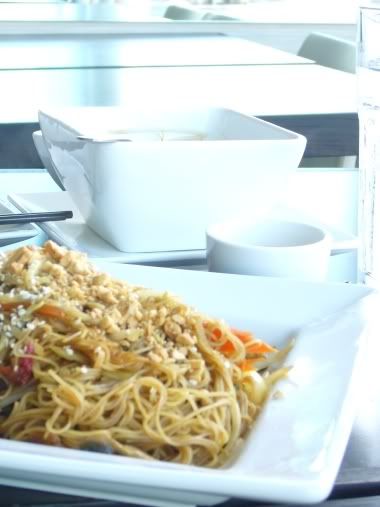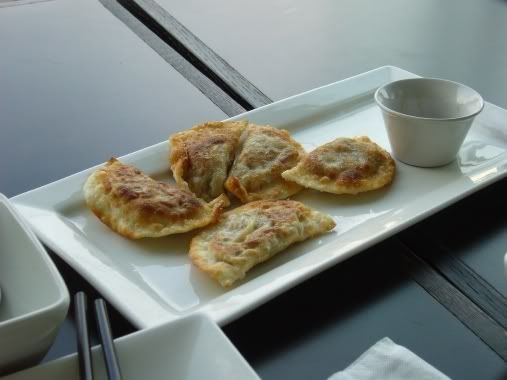 "Holy Cow!" I thought to myself, as I opened a packet of MSG-free vegetarian instant hot & sour soup a few minutes ago.
I never posted about Cafe 668 in Toronto!
To redress this criminal oversight, I now present to you photos of a most marvellous vegan restaurant in Toronto.
Blended ice & mango smoothie:
There are a few notable things about Toronto, and 668 exemplifies them:
1) It is an amazing city to be a vegetarian. (From rasta food, to Asian fusion, to salad & rice bowl bars)
2) The best 'ethnic' food is often – maybe even usually - not found in 'authentic' (i.e. small and grimy) shops. It's more often found in places that in any other city, judging by the slick exterior, I would give a wide berth. This applies to Italian food (the best we had was at Terroni, which is a suspiciously clean and mid-priced place always packed with middle class people) and very often to Asian food (unless you are after some late night drunken candied-chilli-fried General Tso chicken, and then its all the cluttered humanity of Swatow on Spadina for you my friend).
3) The prices at slightly more upscale 'ethnic' eateries like these are very competitive with their more humble-looking counterparts.
668 is very stylishly got out with clean incense scented bathrooms with ornate carved doors, huge floor to ceiling windows on
Dundas
, and a palette of browns, natural stones, nice white china and a couple of cute little 'mod acrylic' chandeliers (I like to think of it as the 'Celia Stephenson' look).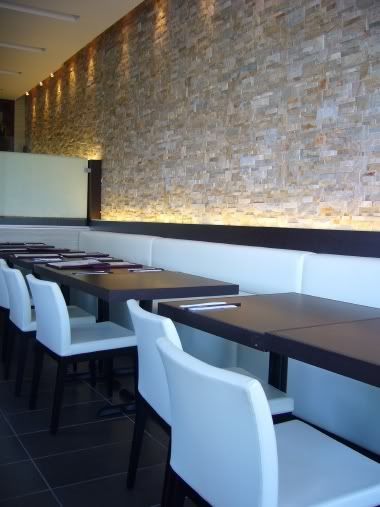 Interestingly, as indicated by their
unprepossessing website
, 668 used to be housed at a more humble, 'authentic' address. It's very good to see an eatery become more upscale without losing any of its edge. And also very nice that the servers have not changed, and are still family members of the restaurant's owners, very down to earth as they serve up organic wine.
Bravo to Ngoc Lam, first-time restaurateur and a self-educated chef, who has so successfully combined the flavours of Thailand, Vietnam and China with little innovations like shreds of a papery thin dried tofu mimicking bonito flakes in the delicious Vietnamese hot & sour soup, which is a very generous serving and comes packed with fresh-tasting vegetables (it's about four times as big as it looks in this photo).
Now magazine describes the version with noodles: "Like its terrific first courses, 668's mains are meant to be shared. Large steaming bowls of hot 'n' sour vermicelli soup ($8.50) brim with a clear, sweet tomato broth thick with large chunks of freshly stewed tomato, crisp celery stalk, crumbly bean curd sheet, chunked pineapple and fresh mint."
The mushroom & tofu Tom Kha soup with coconut and ginger was delicious too though served as a much smaller portion.
How does Ngoc Lam achieve such depth of flavour without Nuoc Mam or other fish essences? In the case of the hot & sour soup it was clearly via spices & flavourings like chilli and tamarind, but also a goodly amount of tomato infused into the broth. She seriously should make a cook book, to school those people who think that noodle shops shouldn't see their doorsteps darkened by any veges other than cabbage, spring onions and the odd piece of pineapple.
Superb 'Singapore-style' fried-but-not-oily vermicelli with a tasty curry spice blend, crushed peanuts and little pieces of vegetable protein or flavoured seitan (which make moist & tasty morsels in a bird's nest of noodles), 9 dollars: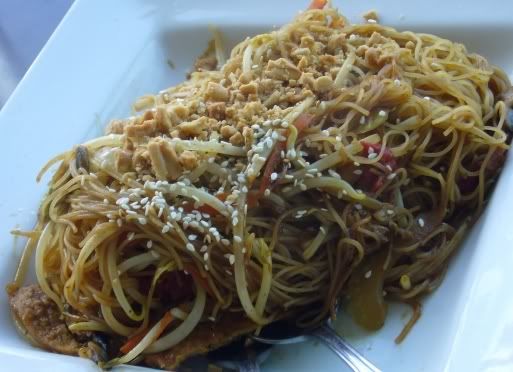 It's better to go for noodles, tofu, soups and salads here: stubborn meat-lovers will be disappointed by the mains which offer 'veggie chicken' or 'veggie beef'.
The most memorable dish of all was this water chestnut salad ($8.99)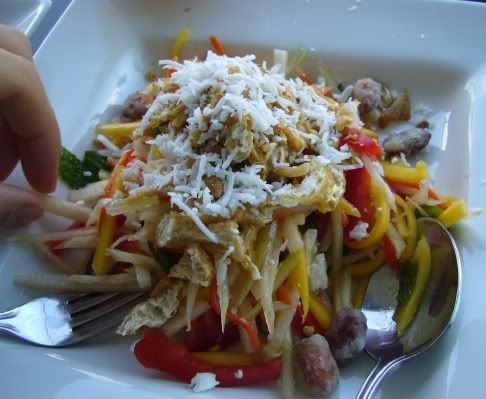 - crunchy water chestnut
- slivered carrot
- celery
- green mango
- red bell pepper
- shredded coconut
- gingery candied almonds
- mint
- crushed peanuts
- thin strips of cold fried tofu
And as for the dressing, it's very hard to say. It seems not to contain (much) oil, maybe a hint of sesame oil. Definitely chilli. Citrus? We asked the waitress, and she couldn't (or wouldn't) tell us - then in a moment of generosity she hinted that "she always soaks the vegetables overnight". I wouldn't have been surprised if there were no dressing at all, but the "jubilant juliennes" (as Now magazine called them) including the tofu were soaked in a sugar-mirin-citrus-chilli brine. Worth trying to replicate!!
CAFE 668 (885 Dundas West, at Claremont, 416-703-0668)
Toronto