Wednesday, 7 November 2007 by kinakoJam
The day I really started to love Toronto was when we took a taxi to the vegetarian pan-south-Asian spot called 668 (at 885 Dundas). We had water chestnut salad and noodles, then got a moist piece of vegan banana bread and a cup of house-roasted blend at CaffèBRASILIANO (849 Dundas West, at Euclid) - a cafeteria/diner spot with lunch specials in steamer trays and feels like it's been there for fifty years - decor is all brown and orange and there are cabbies and grumpy old men lounging around shooting the breeze.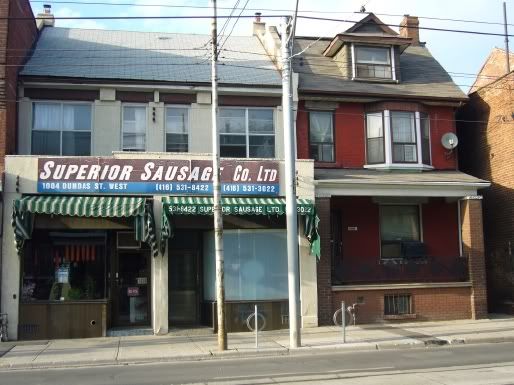 We then wandered further west, past Superior Sausage and a funny old wedding supply store with faded crochet patterns and dusty glassware in its window. Dundas is a broad street and peppered with vintage stores, Portuguese family houses, and gusts of fresh autumn wind.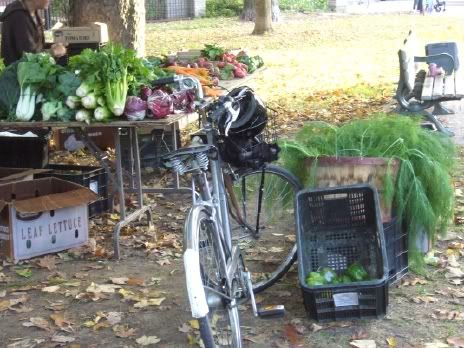 We came across the Trinity Bellwoods Park organic farmers' market which ran from June 5th to October 30th (inaugurated this year), completely by accident. In the late afternoon golden light under an autumn panorama the scene was idyllic. Wouldn't it be great if every part of town including poor areas could be serviced by little markets like these?
Not that farmer's markets are anything new, but the contrast of finding a really good one in the middle of a big city is almost shocking. It is such a welcome change to the impersonal nature of our modern lives, to be interacting and chatting with people who make the products we are consuming, as a momentary community is born around paper cups of fair trade coffee and samples of cheese and textures and tastes all outdoors in good clean air. Not really a yuppie hang out either... mostly good, honest ex-hippies.
It's also a relief when the guy selling the bread speaks German. (Alchemy baking company):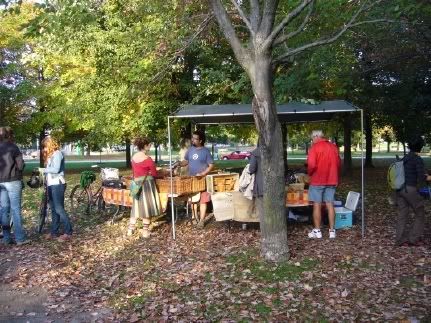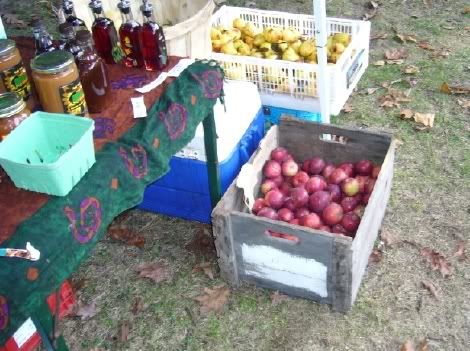 Organic (non alcoholic) cider direct from a farmer's market is really the best cider of all. Apple juice is very big in Germany (little kids seem to drink nothing but apple juice mixed with sparkling mineral water), but I have never been passionate about it before (except as a mixer e.g. with sweet-potato shochu). But since this North American trip I think I have become an apple juice 'afficionado'. Super fresh cider straight from the farm is brown, deep tasting, and tastes like all your autumns or gulps of farm air condensed into a glass.
Most store-bought ciders are no comparison at all. We bought this excellent drop from Trinity Bellwoods market: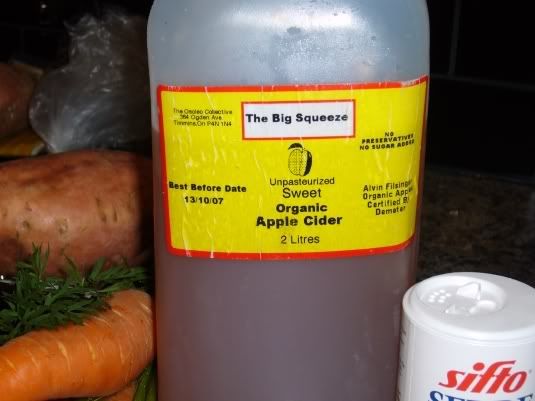 When you reach the corner of Dundas and Ossington there are more Portuguese run stores like a fish shop with evil sea eels.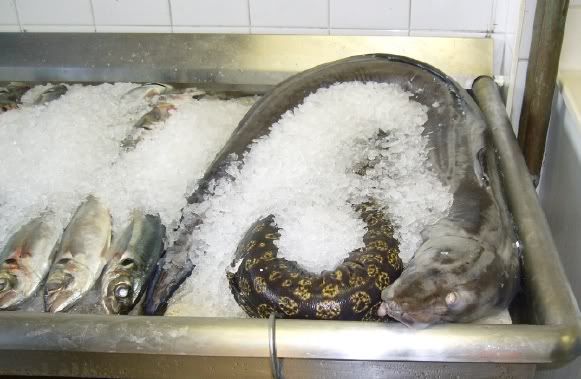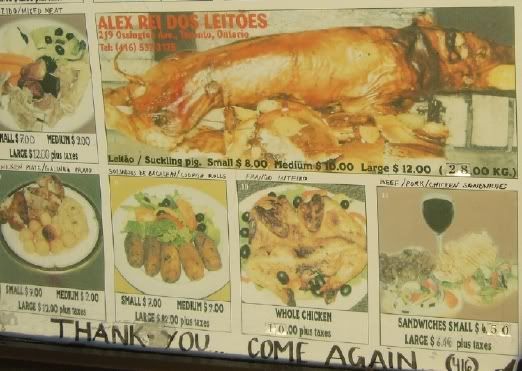 If you turn left into Ossington you'll find a French soup kitchen (potages and veloutés), excellent vegetarian restaurant called Get Real!, a really good second hand book store (Babel Books at 123 Ossington), many home redecorating stores due to the Portuguese traditionally performing a lot of construction work in Toronto, the decent iDeal cafe, and Venezia Bakery with its wonderful Portuguese custard tarts in their crisp pastry shells. Right at the bottom of the street is
Sweaty Betty's
, a very cozy spot, with a jukebox that can play Judas Priest or Willie Nelson, and a raised area with nicely mismatched furniture ("velour food stamp chic") "This crimson-washed boîte is well-doused in the woozy cologne of stale beer and panelled in photos of tattooed sailors—no designer cocktails, just the real juice (absinthe, scotch and an impressive selection of tequila)." And a good honest back terrace for smokers. It is directly across from the Toronto Western Hospital Men's Detox Centre.
If you are into strong coffee, used copies of Hemingway or Balzac, old records, galleries, shops filled with strange ephemera and dusty old seventies frocks and stuffed animals and racing helmets, cheap whiskey and tasty things to nibble along the way, delivered without too much pretension, walking along Dundas & Ossington is the way to spend a perfect day.