Friday, 16 November 2007 by kinakoJam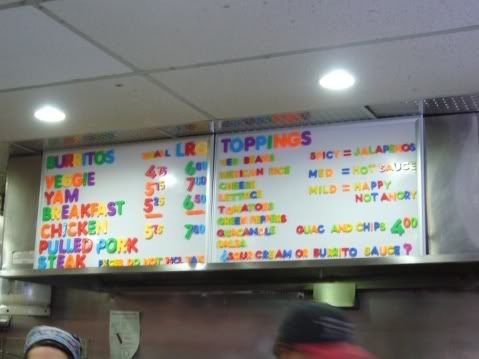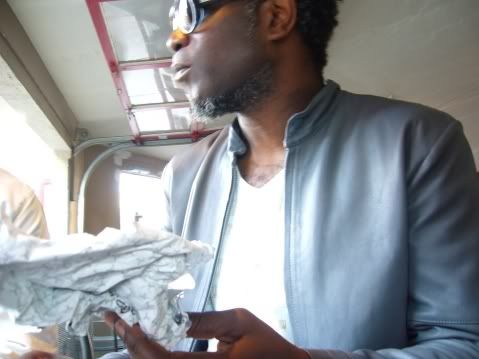 In all probability, Idris Muhammed wasn't thinking of burritos when he wrote Could Heaven Ever Be Like This. Until recently, I would have agreed with Idris, having never been convinced of the charm of this fast food until we visited Big Fat Burrito in Kensington market (the other tipped spot in town is Burrito Boyz in the Entertainment District). I had only experienced big, leaden doorstopper burritos in Seattle, that had our stomachs putting up picket fences and protesting at the horrible working conditions.
Still, my vegetable burrito confounded expectations by striking exactly the right balance between sloppy comforting ingredients like cheese and refried beans, very fresh guacamole, crispy salad and a spike of hot sauce, jalapeno and lime juice. The small size wrapped in a flour tortilla is definitely big enough to satisfy but without that leaden gut feeling. (UNLESS you eat a goat patty beforehand as I did and then you may not be able to eat for the next 48 hours and will sit the next night at a Korean all-you-can-eat BBQ watching everybody else in a meat orgy while you are left trying to convince the Korean servers that you are not freeloading). Now that I am back in Germany I already miss this crunchy, refreshing, messy comfort food.
As described by Now magazine; "Mission-style burritos, available small or large: generous fajita-style strips of sirloin in a foil-wrapped flour tortilla layered with lots of gooey cheese, crunchy diced tomato, bell pepper and the slightest hint of jalapeño, guacamole, rice and beans; the unique yam burrito loaded with lots of sugary-sweet potato and salad-like fixin's."
Steve Spacek and Mark Pritchard enjoy their chicken burritos: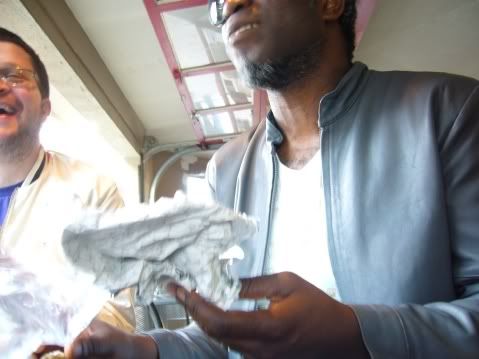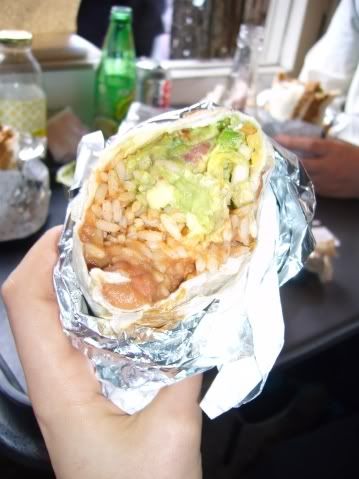 The location is also very nice with big, open air windows (no window panes) and thin plywood walls offering a 360 view of chilled out Kensington Market.
Big Fat Burrito
285 Augusta