Monday, 12 November 2007 by kinakoJam
Having eaten our way through many spots of both fancy schmancy and hole-in-the-wall varieties, we were left in no doubt of the culinary charms of Toronto. I must say that this city would definitely benefit from one reliable Sietsema-type reviewer though. (I urgently recommend Sietsema to begin research on a Toronto version of
his books
like 'Good and Cheap Ethnic Eats in New York City': he would have a field day in Toronto no doubt). You can easily find short, vague reviews on sites like Torontoplus or Toronto-ourfaves.com, but the best bet is to google the cuisine or restaurant you're interested in with 'Now magazine'. But not even Now has a complete (or completely reliable) catalogue of the city's offerings. And trying to figure something out from Chowhound is like playing darts in the dark. Oh la! Nothing to do but make sure you have a few reliable recommendations if your time in Toronto is limited.
Toronto's circa 220,000 strong Jamaican community largely came to the city after various dubious immigration policies ended in the '60s. Some of these immigrants contributed to Toronto's hip hop, reggae, rocksteady, soul and funk scenes since the late '60s: including Jackie Mittoo and
veterans of the Studio One and Trojan labels
. Today the legacy continues with people like
Kardinal Offishall
, Canada's premier hip hop artist, who brings reggae roots into his beats.
Speaking of roots & beets (bada boom!), of course the West Indian community also brought with them some culinary fiyah. Albert Wiggon came to Toronto the mid 1970s, first as a factory worker, but by age 18 saving profit to open up his own business and practise the kitchen secrets taught him by his mother. His restaurant on St. Clair Avenue West spawned the smaller branch on Queen West West.
Albert's was the spot generally recommended to us by Torontonians of Jamaican descent. For me the allspiced rice 'n' peas and oxtail gravy (always ask for extra!) outshone the actual chicken, which was juicy and falling off the bone (island-style), but we should have got spicier (there's hotsauce on the counter).
Albert's also got the thumbs up from the New Yorkers who were in town. It was from Harlem-based DJ/writer
Chairman Mao
that I learned how to order the ultimate late night drunk food: a
patty
(or two, if you're a boy) on
coco bread
.
Jamaicans.com says
Ah, a warm, buttered piece of coco bread and a sandy beach... no one could ask for much more than that."
Fair enough, if eating a soft, white oversize hamburger bun on the beach is what you're into. And if that's your ting, along with your patty-on-coco-bread, you drink a bottle of grapefruit flavoured -yes -
Ting
.
The spicy meaty warmth of the patty and its pie-like suet pastry shell, the fluffiness of the bread soaking up the spice and the juice, the sting of the ting, combine to make it a late night drunken treat par excellence. And it's not bad by daylight either.
(
Here
is a recipe for a vegan version of patties with coco bread).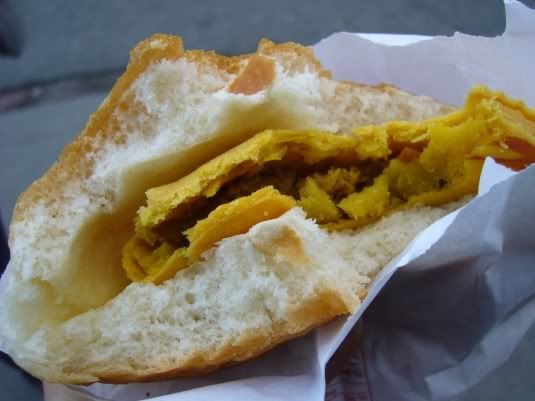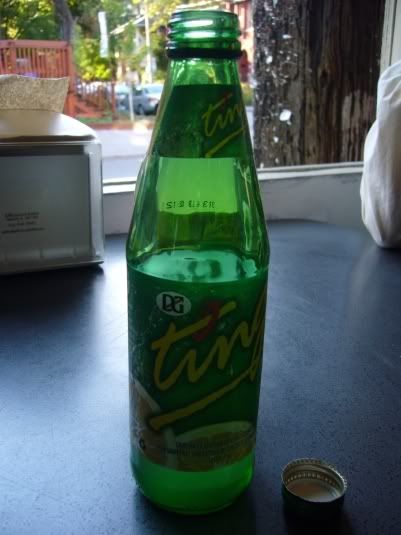 Next time we're in the vicinity of Albert's, I hope to try an oxtail dinner with caramelized plantain, salt-cod fritters, gongo-pea soup and dumplings with gravy.
Albert's Real Jamaican Foods
542 St Clair Avenue West
Toronto - (416) 658-9445
558 Queen Street West (tell the cab driver Queen and Bathurst)
Toronto, ON M5V 2B5, Canada
(416) 304-0767