Monday, 19 November 2007 by kinakoJam
In general, I am against the cult of personality, unless the person is dead, in which case a bit of mythology is sort of permissable. I might admire certain chefs and food writers, but I tend to eye celebrity chefs and their expensive restaurants with suspicion. It's all about how much muscle your mastercard can flex and how much the bankers want to throw away on the expense account and going to THAT restaurant becomes a lifestyle accoutrement just as much as the Italian catskin boatshoes are.
To put it more simply, I'm a bit stingy. Also, unless I am getting takeout jerk oxtail or baking a meat pie at home, I prefer clean, light, simple flavours and a multiplicity of dishes. I prefer food that is soaked in dashi and enhanced with handfuls of fresh chilli or herbs to something that is braised for three hours in butter to taste good. So I am very wary of expensive food, which in general seems to be very rich, and the monotonous focus on animal proteins and stodgy celeriac purees in a typical secondi is just too overblown: much like the rich people who typically love that kind of thing. OK, the dishes might be good, just not THAT good that I would spend the cost of four other equally delicious meals on it. In my boringly picky opinion, the only place where cost seems to have equalled value when it comes to fine dining is in Japan, and maybe at Hakkasan in London, but more on that another time.
In fact, (although having me review a fancy restaurant is like sending someone who's allergic to seafood to review a seafood restaurant), the only area where cost seems to more consistently reflect deliciousness is in the arena of cocktails, and
Mark McEwan's 'One'
restaurant in Toronto's upscale Yorkville area confirmed this, along with my other deep-seated prejudices.
The bar area was dimly lit and steeped in sepia brown chic hotel ambience. The cocktails which we had were excellent – a caipirinha made from crushed black cherries and raw sugar and cachaca; a mojito made with Grey Goose and cloudy apple juice; and an embarressingly pink concoction of grapefruit juice, an old-fashioned brand of Canadian creaming soda, key lime and an alcohol that I can't remember, served with a 'sour key' (classic Canadian candy).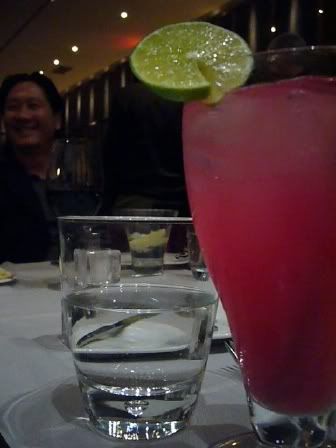 When it came to the service and the food, our post-meal discussions on the drive home with Jim & Many, who are much more qualified to judge such an establishment, were echoed in
this review by Amy Pataki
. The service was awkward and at odds with the chic surroundings; so too, was the concept of shared plates when served on silverware. The forced casual-ness of the food and service clashed with Yabu Pushelberg's modernist design of the restaurant interior (the others in our party found the design too nouveaux riche though I actually liked it). The Kobe beef was cold by the time it reached our table; the braised beef shoulder was quite delicious but although slightly larger than a typical main, it hardly seemed designed for a fun shared eating experience. One would prefer large messy platters, gigantic salads, deep bowls and plenty of dipping things and ideally food that could be grilled or stewed at table.
The polenta with mascarpone & thyme and the spaghetti squash with ginger and the tuna sashimi with lemon & lime peel were very good, but again, didn't seem especially to match the whole shared eating concept. It was like a normal fancy restaurant experience, except that everybody was awkwardly picking off each other's plates. The fennel soup with roasted black cod as a starter was really yummy, even though I don't usually like these cream-based soups that are also very popular in Germany.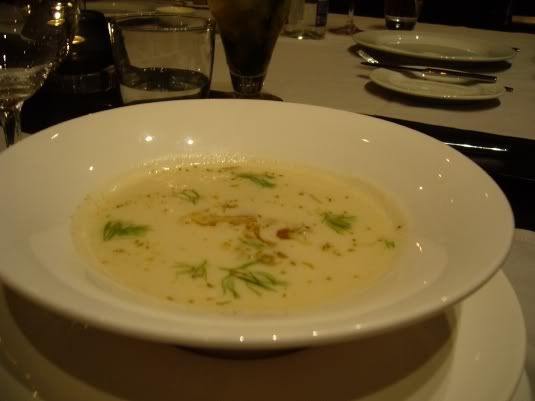 Polenta as communal fine dining: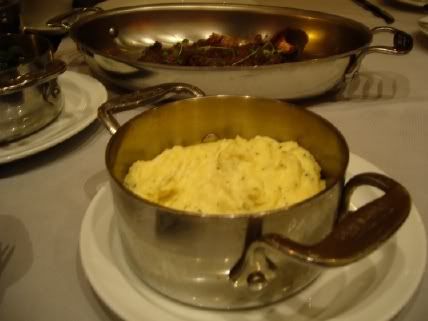 Anyway, after we left Toronto, I finally got around to reading Jeffrey Steingarten's column in American Vogue, which had been sitting beside my bed all those weeks, and who did he praise extensively in it but
Susur Lee
, another of Toronto's hyped restaurateurs, who's been on Iron Chef and who I had been sure would serve up the kind of over-rich, overhyped boring pan-Asian food typical of places like Long Grain in Melbourne. (BTW Mark McEwan of One has a TV show too). But after reading Steingarten's review I was really kicking myself for not going to one of Susur's restaurants for a modest lunch. Oh well, that's what you get for being prejudiced against celebrity chefs. Bigots always get what they deserve.
Address: 116 Yorkville Ave.,
416-961-9600
Apparently dinner for two costs $250, owch!! Don't do it!