Monday, 23 July 2007 by kinakoJam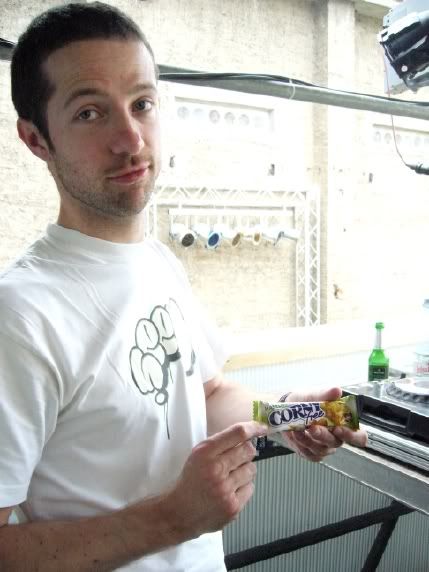 (photo:
Moxo Tengu
about to get the Corny-licious nutrition he needs to play the RBMA Radio stage at Melt festival)
Melt festival is a two-night affair in deepest East Germany. The festival site is a 20 min car ride from the nearest town, Dessau, which means you are somewhat bound to eat what's on site. So don't forget your packet of hazelnut Corny bars!
Luckily there are some stalls offering decent snacks to rockers and ravers (Melt has an equal mix of both, a bit like mixing oil and water,... or oil, vinegar and eggs: it results in quite a mellow social mayonnaise).
In the picture you can see a typical German fairground snack, the gingerbread hearts with declarations of love in icing, These didn't seem to be selling too well to the fans of Dizzee Rascal and Kelis. Nor did this same store do much of a trade in its roasted nuts or chocolate-coated apples. I felt sorry for them. What's wrong with a good honest nut then eh?
To the girl's left in the picture below was a smoothie stall where I had a truly delicious smoothie of frozen strawberries, apple juice and peach pulp. 2 or 3 euros. And they told me I was the first one to order it! Melt punters, you missed out!!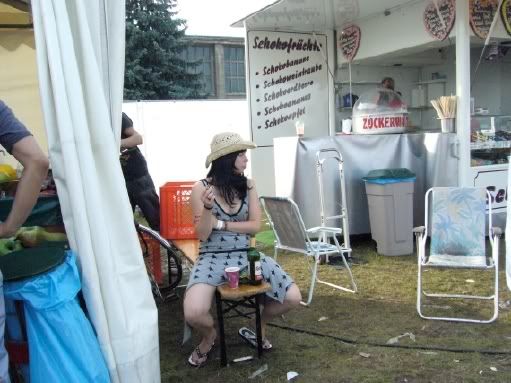 Otherwise, you have the option of a very long queue at a white lady diner caravan for a damn good
Currywurst
with fries - actually the best currywurst I've ever had! The outside of the sausage was perfectly grilled, crumbly and toasted and sort of falling off into the quite sweet sauce. The fries were just OK.
Or there is a bio (organic) wurst stand: I had a bratwurst there with a small piece of graubrot (german sourdough). The sausage was good but quite small and the bread was dry. The 'chutney' was a slightly exotic tasting mayo.
Sausages are unsurprisingly the staple rock concert snack of Germans, traditionally consumed with liberal amounts of Jaegermeister. At Melt I really grew to understand the effectiveness of this combination! Jaegermeister is totally the perfect rave alcohol! I hold it partially responsible for how much I enjoyed Maurice Fulton's set, though Maurice himself deserves most of the credit.
Which of the people in the picture below has consumed the perfect ratio of sausages to Jaegermeister? That's right - it's our old friend Mr. Monkey Sausage...otherwise known as Yannick Elverfeld: see a clip of his monthly party
here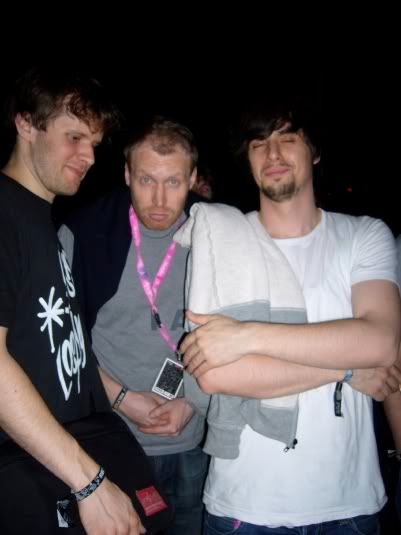 Stay away from the falafels in the Turkish tent, as nice as the rugs and divans might be: the falafels look and taste like hard, irregular pieces of rabbit shit.
In the backstage area, they had a buffet for artists to take one helping only. So you had people like
Tobias Thomas
hob-knobbing with
Alex Smoke
over gratinized potatoes, and the very German (though Scandinavian in origin) dessert of
Rote Gruetze
(literally 'red groats'?) - a thick mixed berry compote with vanilla cream ( a light custard).
No photos of that, but here are some people backstage going to the Red Groats tent: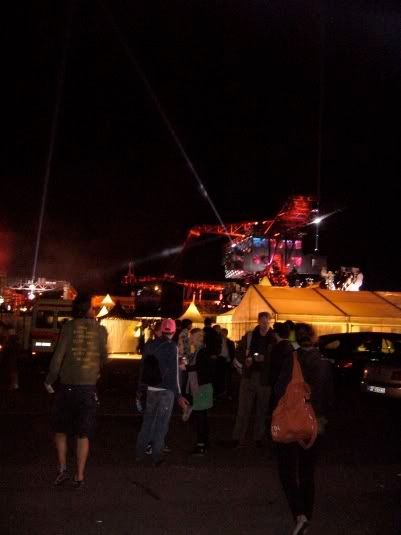 I guess the brave campers have it the best food-wise. BBQing under a tarpaulin next to this abandoned steel-mining-pit-turned-lake, seems the way to go.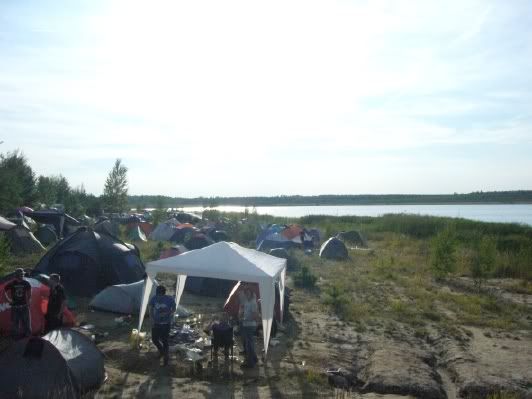 Be careful how much Jaegermeister and currywurst you consume: everything becomes a bit backwards the next morning, especially your German, and you might find that when you order a cafe latte, they bring you an ice cream sundae. Like Kat here, a Californian currently living in Berlin: