Thursday, 26 July 2007 by kinakoJam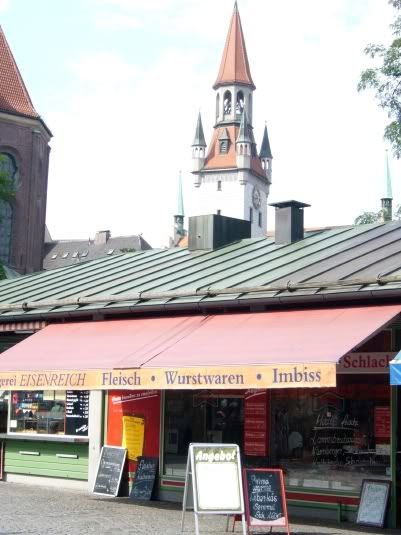 Sometimes, the cream sinks to the bottom.
Munich is sort of fancy. It's very clean. It's just a little bit Marie Claire, and a lot BMW. It wasn't bombed beyond recognition in the war. It has the strongest economy of any city in Germany.
Still, from strolling in the
Englischer Garten
, to touring the delicatessans, it's not somewhere you need a bulging wallet to have a memorable time. Especially when it's summer and the sun is blazing. Cheap AND nicely-presented: that's my kind of food.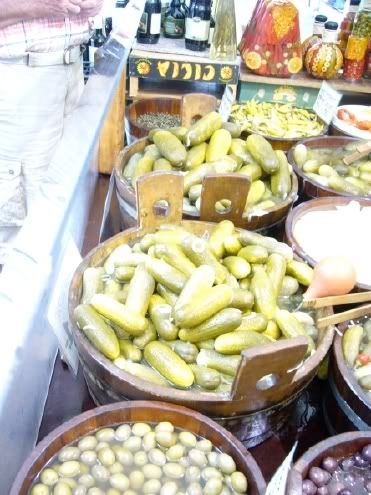 The
Viktualienmarkt
is the spot for wooden vats of fat pickled gherkins, jars of Kürbis-zimt (pumpkin-cinnamon) jam, and a sharp fresh smell in the air from the juicing stalls, where you can get a ginger-beet-celery-apple-carrot juice for a couple euro. The Viktualienmarkt is the perfect cure for a hangover.
The
Münchner Suppenküche
is a highlight of the market, Many & Anne introduced me to these soups on my first 24 hr trip to Munich. Check them out. The carrot-coconut-ginger soup is delicious, light, not too creamy, drizzled with a little pesto and chopped garlic and bright blue borage petals. It was about 3 euro 30 cents.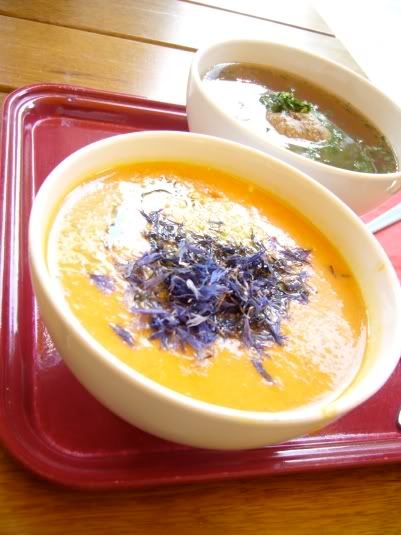 The leberknoedel (liver dumpling) soup was sooo good: it's a speciality of Munich. A substantial bread dumpling seasoned with pork liver (the effect is of a nicely-textured savoury meat, there is none of the usual glutinous dumpling vibe) in a really tasty broth with fresh parsley, only 2 euro 80 cents.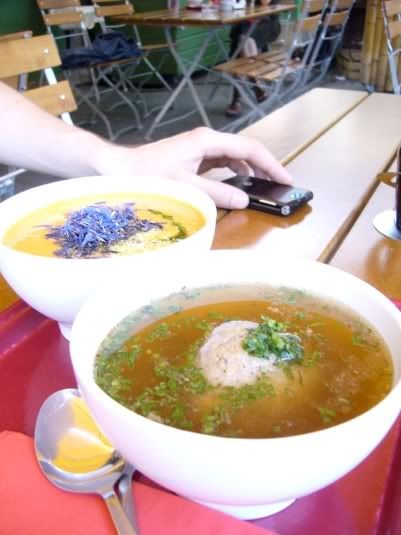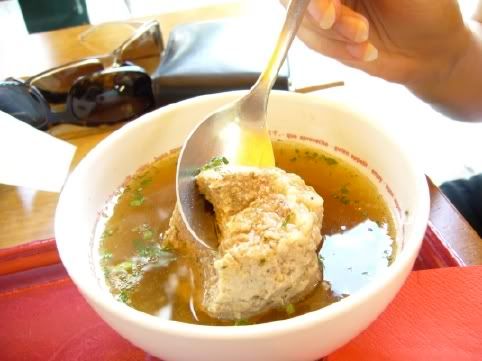 If you're feeling really game(y) at the market, you could try a horsemeat sausage, like this fellow. (A sign on the window said "Fresh foal meat in today!"). And what a mighty table cloth.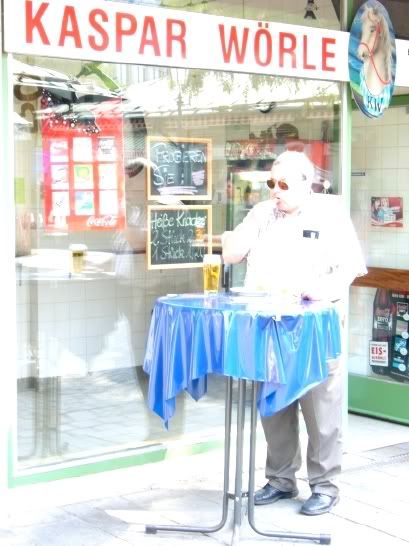 Next stop on an eating tour of München: fancy delicatessan
Alois Dallmayr
. Here you'll find American and Japanese tourists buying the famous grind of drip coffee; and a fountain filled with scuttling freshwater crustaceans. Stuffed stags' heads mounted on the walls cast their glass eyes down over a glittering array of gelatinized amusements, like half tomatoes filled with piped schinkenmousse (ham mousse) then glazed. But what a beautiful array of cheeses and Black Forest hams. See the picture: we got 100 g of that black-crusted Niederbayerische smoked ham for - I thought 5 euros but looking at the photo, I'm not sure! Could have been 2.40? The server peeled back the black crust and sliced very thin, succulent slices of the ham.
I'm a big fan of the black forest ham from our local supermarket, but obviously the fresh stuff is totally different. More complex flavours, and more juicy.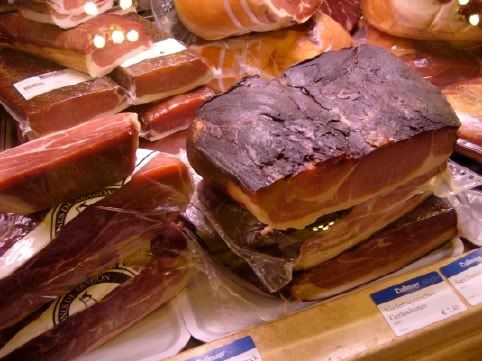 (photo: on the left, Aragon jamón, along with Bavaria's most devilish pig product)
We also got a bottle of really good 2003 Spanish cab-sav at Alois Dallmayr for about 5 euros.
Below you see the resulting dinner: the mozzarella and antipasti from Viktualienmarkt were the lowlight - they didn't seem too fresh despite the stall doing a roaring trade. I would stay away from those. The ham, bread and pumpkin-cinnamon jam and wine were tops.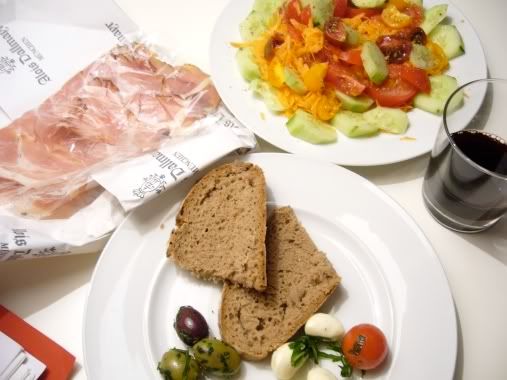 Speaking of the bread! Wow! That is the best sourdough I've ever had. No dry 'graubrot' (greybread) variation this. Moist open crumb (probably 60% hydration), tangy and crusty on the outside. And to think that we bought it at trendy homeware store
Manufactum
. Now that I know their store in Duesseldorf also sells the bread, it's yet another reason on top of short grain rice and disco dancing to catch that train across the Rhein. Half a loaf costs 2 euros.
We ate the whole half loaf and half a jar of the Kürbiszimt jam.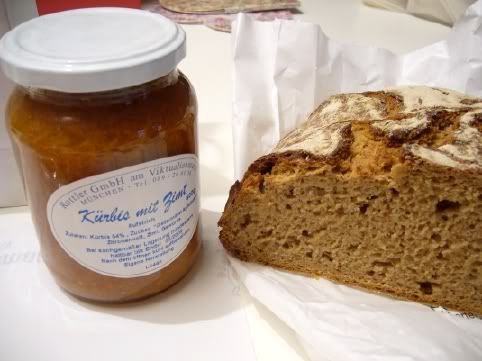 Last delicatessan stop on this tour of Munich was the even more famous
Käfer
, a well-stocked but very reasonably-priced deli. I think this place is the grandmomma of all those modern, functional delis in the new world, from Alimentari to the Dixon St Deli.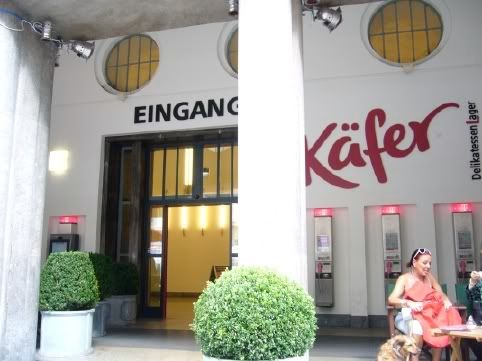 Big rounds of ciabatta with peperoni for only 1.80: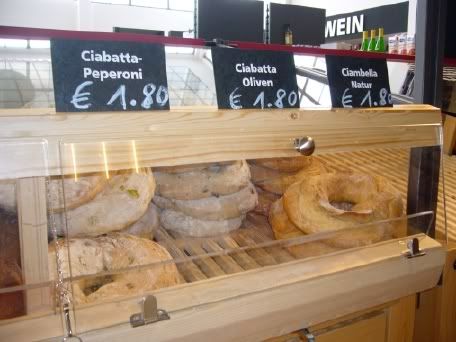 Japanese tourists checking out the risotto rice with porcini.