Monday, 16 July 2007 by kinakoJam
photo: DJ & radio coordinator
Yannick
offers his monkey sausage to fellow German Sonar-ambulist
Dixon
Note: 'monkey sausage' means banana in Frankfurt dialect.
Here's one festival which isn't all about monkey sausages. One of the best things, if not THE best thing, about visiting Sonar in Barcelona in mid June, is the food. If you aren't put off by the hams hanging in La Boqueria market (they hang next to slicing machines with hooves still attached, looking rather like elegant high heels). The bocadillo sandwiches are probably the staple Sonar sustenance: very simple small skinny baguettes smeared with a little smashed tomato & garlic and filled with a couple of pieces of thin sliced jambon (ham), which is very umami-ish and musky.
A lot of people wander down the road to the giant La Boqueria market which is a stone's throw from Sonar. There is a fish restaurant there, and you have to hang around til a seat at the counter is free.
Gerd Janson
snuck down there on the first day of Sonar and sat in the very seat where moments before Woody Allen had been snacking on prawns. This was my third time at Sonar and the first one at which I had time to visit the
Bar Boqueria
(I did forcibly interview a couple of RBMA people while they chewed on shellfish). The mixed fish plate is supposedly the thing to get, but Erik & I felt that for the price (22 euros ish) it wasn't so amazing. If you are into very simple & fresh preparation - simply covered in oil & garlic - you might love it. But we wished they would at least de-vein the prawns.
We visited a couple of restaurants of very good repute... of course it was the little humble tapas place around the corner which ended up being the most memorable meal. No doubt it was because it was our first night in Barcelona and we just walked down there by ourselves in the warm air and randomly picked out some dishes from the plates behind the bar. (I'll post the address of this place when I find the piece of paper at home).
The best thing of all was the crab salad... probably just surimi, fake crab, but cut up fine in a very light mayo (more like a creme fraiche?) with tiny chopped pieces of cornichon gherkin and chives. And those biscuity things for dipping. Yum!
The crab salad that ate Sonar: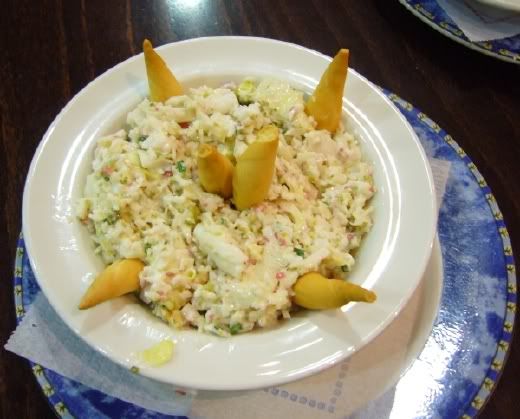 Another highlight of Sonar eating is these green pimientos: in Japanese they're called shishitou, they are amazing! Some hot, some mild, it's pimiento roulette. Fried and well salted.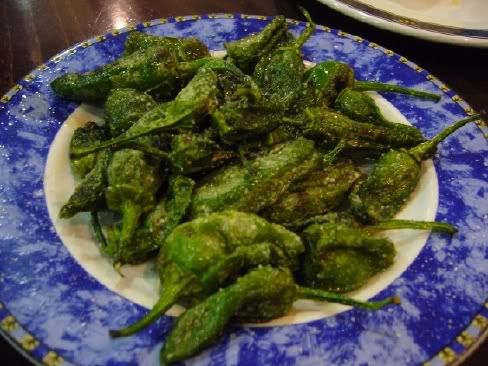 Squid, Barca-style: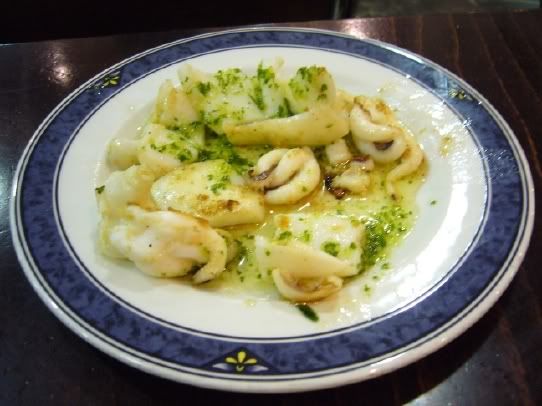 More tapas drenched in tasty olive oil: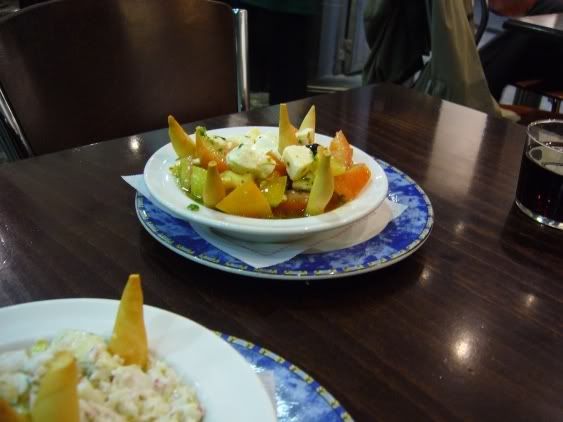 The restaurant: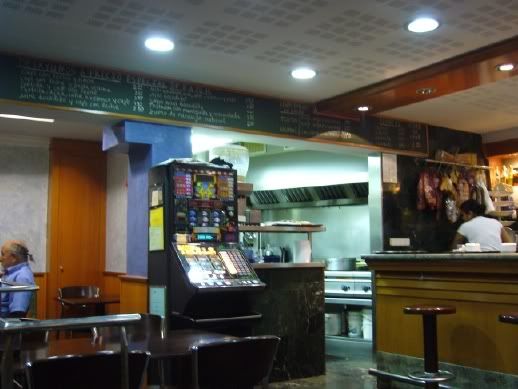 If you need some new music to help you digest, here are some of the sets we recorded in the RBMA Lounge:
Sonar Sessions 2007 - Flying Lotus (Warp/Plug Research, Los Angeles)
- the cartoonist nephew of Alice Coltrane plays funky beats
Sonar Sessions 2007 - Ian Martin (Spin Palace, Rotterdam)
- cheery mix of deep housey techno and italo new wave stuff
Sonar Sessions - Tunng (Full Time Hobby, UK)
- amazing acoustic pop-electronics from the Sonar before last