Saturday, 12 July 2008 by kinakoJam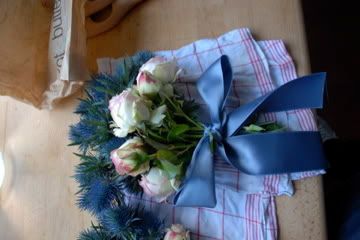 For the last few months, I've been semi-hitched to my 'verlobte' (fiancee) Erik. Last week I finally became a 'Braut', which is not, as it sounds, a type of white salad vegetable grown in the dark, but indeed a bride.
When my dear ex-room mate from Tokyo arrived in Cologne last week she said with a look of concern on her face "I didn't know you were self-catering," and I hastily reassured her that we weren't – which was mostly true.
Most well-meaning friends were nervous that I might repeat certain entertaining follies of my early twenties. Such as my 22nd birthday, where I installed low trestle tables around the edges of my bedroom, with cushions, for a kind of cross-legged banquet. There was a long piece of sirloin sitting in the bath-tub. There were also fish & vegetarian options. But I was very ill-prepared and although an event-management friend saved the night with military-style command in the kitchen, the guests ended up eating at midnight . I should add that everyone got really drunk and it was a damn good party.
A good friend who was present for such debacles, wrote that she was haunted by the idea of me roasting vegetables in my wedding dress. So she offered to contribute towards catering and became quite taken with the idea of providing cheese for the party as a wedding gift. This reached a summit of inspiration when it turned out that Neal's Yard Dairy in London does cheese wheels stacked and decorated like a wedding cake. A cheese 'cake' was not meant to be, though. Mad Cow Disease reappeared in the UK.
In the end we weren't too over the top with our wedding plans. We had a deal where we could use the secret modernist disco basement of our favourite local cafe for free, including a friendly bartender named Bisrat, (of course we had to pay the bar tab). We ordered six quiches and 2 salads (one with puy lentils, the other beet & carrot) from an organic cafe called Metzgerei Schmitz. Paying 60 euros for a bowl of grated root vegetables made me feel a bit sick, but when guests are coming from out of town, ......you can't serve them oranges with pieces of cheese on toothpicks.......or can you?
We ordered vegan sushi from a place called Bento Box: 60 inari, 100 cucumber maki, 100 avocado&rocket/arugula maki, 78 inside-out sesame-coated capsicum, avocado & cucumber maki.
Erik's sister kindly offered to make several platters of vitello tonnato (a classic Italian dish of thin sliced veal with a tuna sauce), and a potato salad, and Erik's aunt, who lives in the village Rinnen, made platters of pumpkin-seed topped sourdough bread.
Then there was the desserts and wedding cake, the type of thing I generally prefer when they are made with raw sugar, whole grain spelt flour, fruit, tofu or all of the above.
Despite the continued protests, I really felt like the food - as much as the clothes, the eBay shoes, or the simple rings - had to reflect something of us and our tastes even more than our budget. So that meant I needed to make some of the food offered at our party myself (with the help of my brother, and a friend Ruth). Somehow I wanted the food to have at least a few drops of our own toil & effort poured into it (I was sure the saltiness would add to the flavour). The fact of wanting to provide vegan/vegetarian options was a convenient excuse. And it turned out to be a saving grace.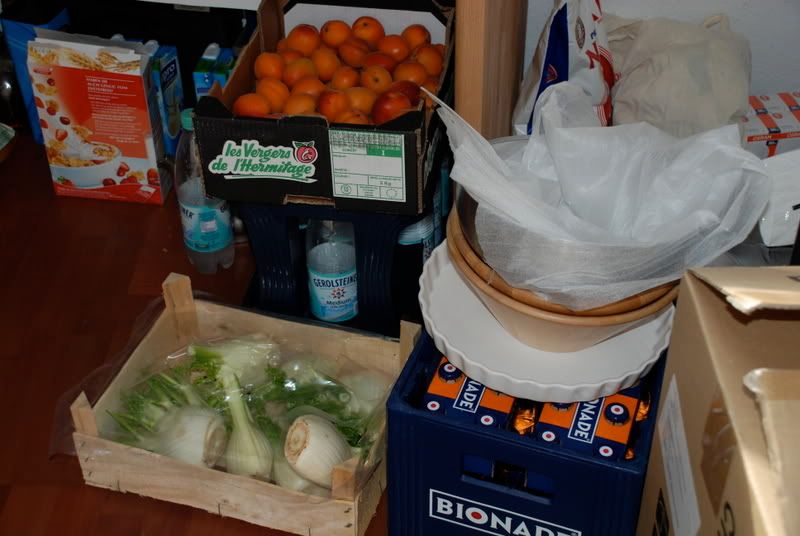 The days and nights leading to the wedding were hectic. We drove to Ikea and bought salad bowls, napkins, and cheap glasses en masse for the 2 hours post wedding and pre-afterparty, when we planned to serve champagne, and 'Bombay crushed' kumquat cocktails, at our house. We drive to the villages of Urft and Rinnen to borrow linen, platters and salad servers.
I bought new chopping boards from Habitat. We went to work by day. I felt quite panicked about the idea of making sure everyone had a good time at the party, and the idea of fulfilling the role of 'bride' well enough that everyone got their money's worth of proper wedding vibes. People asked if I had cold feet. But this question confused me - the weather was very warm and sunny. If anything, my feet were sweaty.
In the end the only thing that calmed me down in the nights leading to the wedding was to focus on baking, wrapping and freezing. When I exited the kitchen and went to bed my heart would start pounding and I'd be back to making mental lists and feeling nervous about looking ridiculous. And there were only going to be 50 people there, who'd all been warned there would be no speeches, waltz or lace veils. It's not like we were planning the Kentucky derby.
Wednesday night, we drove out to the wholesale supermarket Metro, then I made vegan chocolate cookies with a gallon ofagave syrup, and Dutch cocoa, and we ate some of them while playing mah jong.
Thursday night, Erik's friend Danny Breaks arrived from England, and I drank red wine and baked vegan strawberry-lavendar muffins while the guys played the card game 'Shithead' in the living room and drank Hennesy.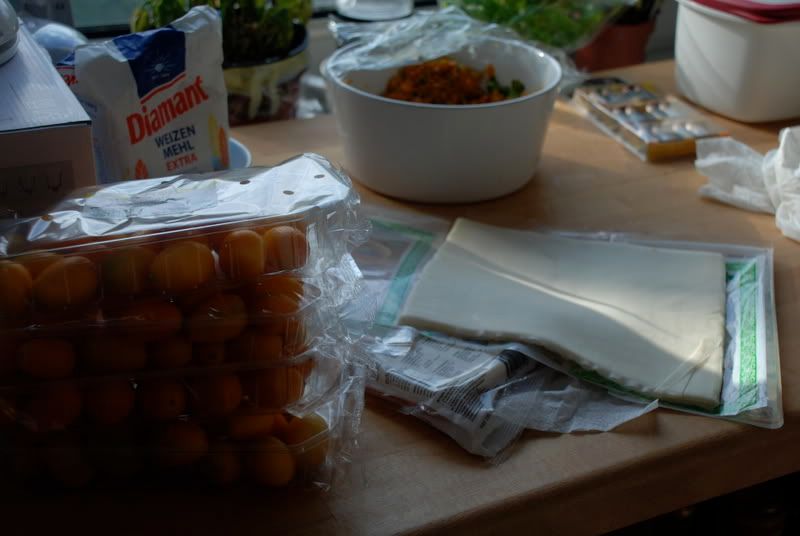 Friday night, my brother Tim helped me to make sweet potato money bags with spring roll wrappers, most of which we froze, ready to bake in the oven on the wedding day. Tim let me issue instructions in making a peanut-butter-chocolate-almond pie, which was also frozen without harm for a couple of nights. Both these dishes were vegan.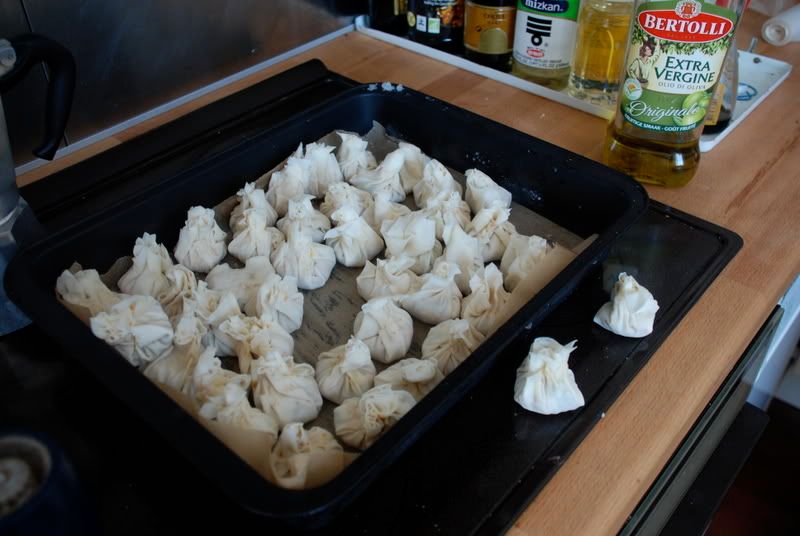 Saturday, I baked one layer of the chocolate-orange wedding cake, we drove out to Metro wholesalers again, and bought trays of fine apricots, fennel, edible flowers, blueberries, stachelberries, Johannisberries, more sweet potatoes (to roast), quark, a crate of orange& ginger-flavoured 'Bionade' softdrinks for the non-drinkers, and some pre-sliced chorizo and mortadella and small hazelnut-studded salamis to snack over the next day or two. (We'd been warned that we would forget to eat in the days leading to the wedding, which against all odds and my unfailing appetite, turned out to be true).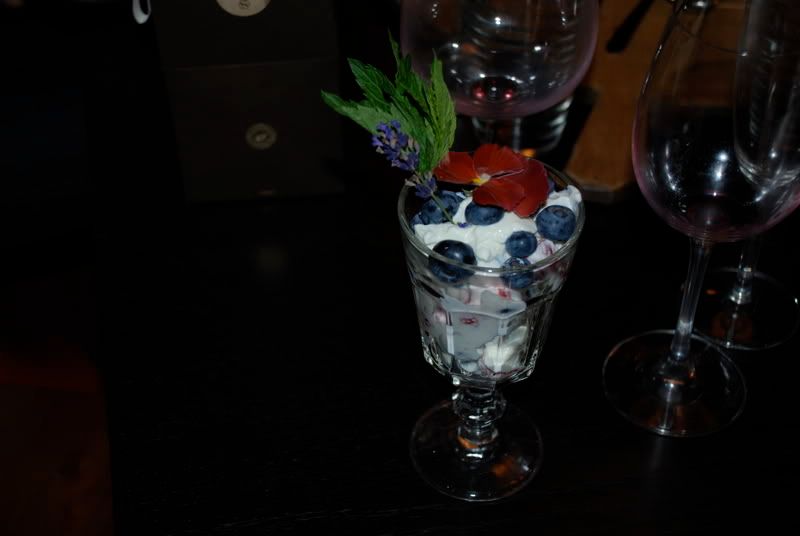 That afternoon, overseas visitors arrived, and we decided it would be more relaxing to hang out at our house. We had thin sliced fennel & orange salad with poppy seeds, then fresh quark with berries, lavendar stems and mint leaves in parfait glasses, and drank Verve Cliquot, and watched a bad wedding movie with Owen Wilson (after trying unsuccessfully to find John Hughes or The Way We Were) during which everybody fell asleep. The Will Ferrell cameos were really good though.
The next morning me & Ruth staked out the kitchen once more.
I made a dipping sauce from garlic, raw sugar, lemon grass and hot sauce, then another from fresh tomato, olive oil, sun dried tomatoes and a couple of dates. This one rocks. Try it at home. Ruth made 2 more layers of the cake, and a tofu 'cream' with shitloads of Agave syrup and vanilla and a little soy milk. We made a creamy dressing from wasabi, more tofu, mustard, vinegar etc for the green salad the next day.
Then we went for dinner with seven of our overseas guests at this great restaurant called Bagutta, had the 3-course menu including a perfectly cooked pink-fleshed fish that the waitress swore was not salmon or trout but didn't know the english name, and a nice white wine made from red grapes. Then we stopped by a beer-garden in the park strung with coloured lights, and caught the end of the Champion's League football final (Germany lost).
When we got home Erik chopped up the sweet potatoes, fennel and tomato and laid them on trays ready to be roasted (by him) the next day. It had been a beautiful warm evening and the kitchen was full of the fresh smell of cut fennel. I felt that domesticity should always be as simple as the smell of fennel, a summer evening, and someone beside you who's good at chopping things.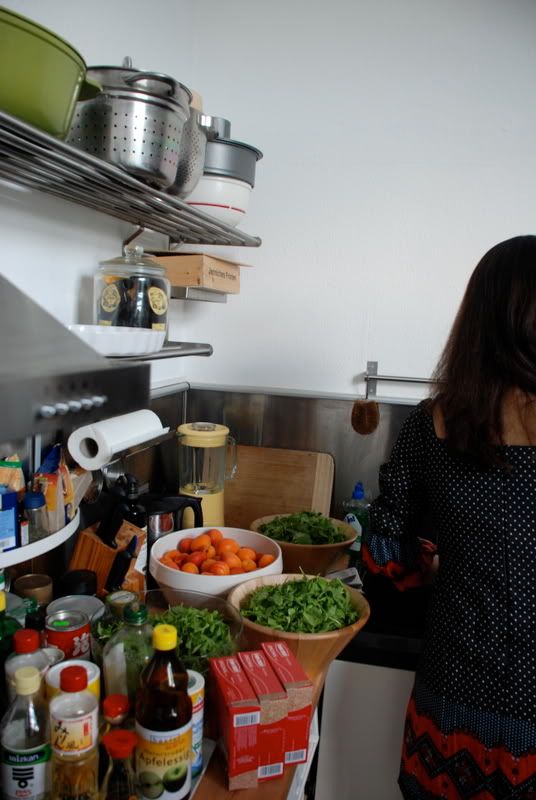 The morning of the wedding, I was busy having my hair done (very basic) while simultaneously painting my own toe nails. So Ruth (took care of decorating the wedding cake (with melted dark chocolate, lavendar, johannis berries, blueberries and a blue ribbon) and it looked so perfect. We bought the flowers (thistles, wisteria, and greenish roses) and she also assembled the bouquets beautifully. Tim roasted the money-bags. Alice (the other bridesmaid), John and Mayuko laid out a beautiful selection of cheese which they had bought from Brot & Butter at Manufactum.
Then we headed to the old town hall for the ceremony (the building below), most of which I did not understand, but the tears in the eyes of Erik's aunts and everyone kitted out so nicely made the whole thing feel very special and serious.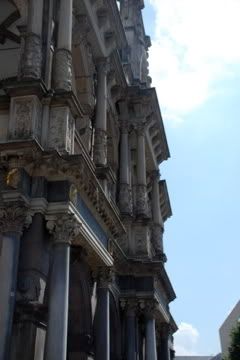 The weather was gorgeous, and it was so lovely to see everybody - from Mina von Sneakerberg and Danny from den Haag, to Gerd Janson and Max Cole and Yannick 'Monkey Sausage', to Marco Passarani from Rome, Vladimir & Marcus from Düsseldorf, Mark de Clive Lowe, my brother, our colleagues all looking very smart in suits like the cast of the Sopranos, and the surprise karaoke set that was rolled out later on in the evening alongside a round of Jaegermeister. (Big respekt to Lars Dorsch for being the perfect wedding DJ and playing all the Lover's Hits from Minnie Riperton to Steely Dan and some classic Chicago house)
Somehow the food stretched - it was actually more than enough - and the cake was very yummy and moist, packed with orange zest and dark chocolate chips and layered with the tofu 'cream'. (Wulf's girlfriend Dagmar did comment that this 'NZ-style' cake was a lot heavier than German cake - and a piece took her half an hour to eat! But I loved it). I drank a lot of vodka with cloudy apple juice and sang 'These Boots Are Made for Walking' with Mayuko, although I wasn't sure how appropriate a choice it was as a new bride.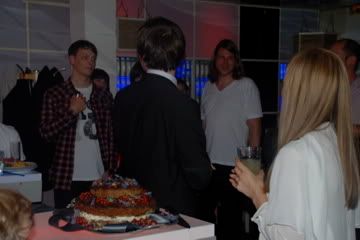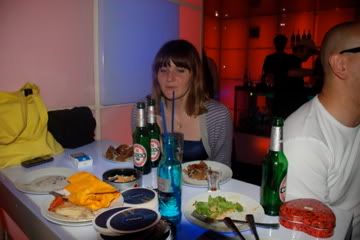 It feels very good to have joined the wedding cult ...... and I'll never forget how smart Erik looked that day, with his new suit and bright white sneakers.