Tuesday, 24 April 2007 by kinakoJam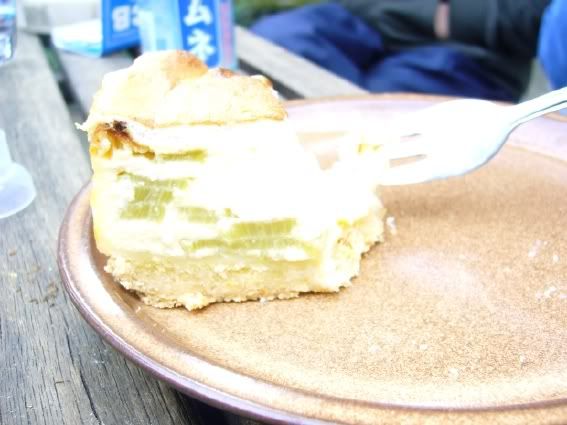 While half a world away people are eating hard-won, bluesey noodles, up here in Germany the weather is getting milder and every citizen exercises his or her right to lie about on grass and eat cake.
Our friends Ina & Harry moved house recently, to a nice below-street apartment in a grand iron-gated house in Ehrenfeld (name of this inner city area translates as 'field of honour'). The apartment opens onto a garden with fountain and Hansel & Gretel style pines. Pretty private gardens are rare as hen's teeth here: generally either you live in an apartment, or you live in a village. If you can find an apartment with a garden you are the envy of your friends. There aren't really suburbs in the picket fence, rotating metal washing line, pumpkin patch sense.
The nice thing that means gardens aren't an absolute necessity, is the many sprawling and verdant city parks, which people really do inhabit and use. These parks make Cologne a real joy to live in during summer... there are often small beer gardens in one corner where lights are hung from the trees, but generally it's meandering grass and towering trees and people lying everywhere sunning, canoodling or grilling. It's nice to see public spaces properly inhabited like that and also nice to see such enthusiastic use of barbeques. In case of emergency you can get little aluminium foil takeaway BBQs from service stations which contain a metal grating and charcoal briquettes, and on really nice days you'll be darned if you can find a single sausage left in any of the supermarkts.
Any way you look at it, a garden is a treat. I think Ina & Harry spend most daylight & dusk hours in that garden (I would too!). They are tending seedlings for a giant pumpkin which they say will be made into delicious pumpkin jam.
So we visited them on Labour Day for cake and coffee: Ina had made cheesecake with the first crop of rhubarb of the season. Germans are very good at cake! And this cheesecake is really tops, very moissst, maybe because it uses quark instead of cream cheese. Forget every cheesecake you've eaten until now, this is the cheesecake you should henceforth refer to in your cheesecake dreams & imaginings. Really great also because it's really not too sweet.
Ina's Rhubarb-Quark Cheesecake
Base:
200 g flour
75 g butter
75 g sugar
1 egg yolk
pinch salt
teaspoon baking powder
Fruit:
300 g rhubard or other fruit
Filling:
500 g quark
150 g fine sugar
pinch salt
1 packet of vanille puddingpulver or two tablespoons of vanilla pudding powder or good quality custard powder
1 teaspoon of vanilla sugar
1 egg yolk
2 eggs
1/2 liter milk
a little squeeze of citrus juice
1/2 cup of olive oil
Baiser meringue crust:
2 egg whites
4 tablespoons fine sugar
Knead the butter and egg into the base ingredients. Grease a
springform
cheesecake pan, and spread the cake-base mix over the bottom.
Cut the rhubarb very finely and spread it over the base. (You could use other fruit like pear or cherries, and you could also spread a little ginger conserve or other jam).
Mix the filling ingredients well and pour over the top.
Bake at 200 degrees for 45 minutes. (Not finished yet!)
Prepare the 'baiser' meringue topping by beating the egg whites stiffly and folding the sugar into them. Spread on top of the cake and bake for another 10-15 minutes. This baiser topping is very thin and just gives a great spongey chewy texture to the top of the cheesecake.
Cool the cake and then put it in the fridge for at least two hours before serving at room temperature.
Best served in a magic garden.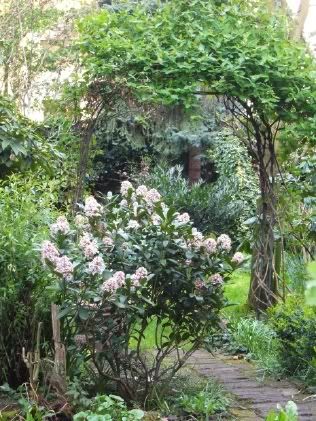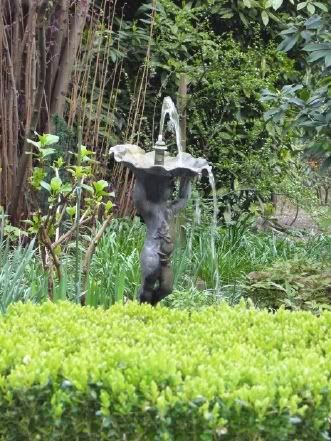 That's the chef on the left drinking 'Ramune' japanese lemonade.